Gracie Gear and Magneat Help Keep Your Wires Out of the Way When You Work Out
Manage Your Wires While Working Out
Music is often an essential for a good workout, but managing those wiley wires from iPod to earbuds can be a pain. Many companies are brainstorming some creative solutions to manage your gadgets while you get your heart rate up.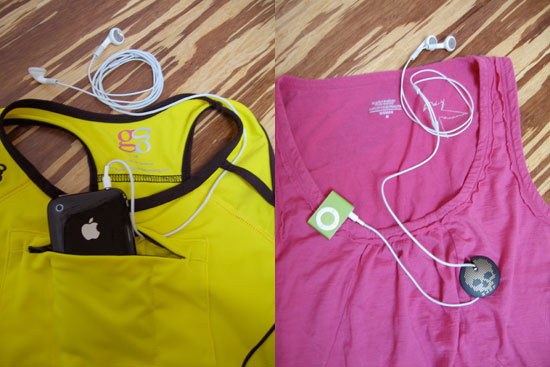 Gracie Gear, one fitness gear innovator, recently sent me a Short Top ($36), a wicking sports bra with a pocket. The pocket is large enough for an iPhone, and it has small hole in the pocket for your iPod cord to feed through and a flap on the shoulder to manage the path of the cord. You can also use the pocket to stow your keys and a sports gel — the pocket can hold both along with your cell phone or iPod. Kind of an ingenious plan for running hands-free, but not the most supportive bra I have ever worn.
The Magneat ($15) is designed to keep your earbud wires from distracting you while you're on the move. It's made of two magnets that stick to either side of your shirt, creating a secure attraction and looking like a mini yo-yo that you wind your excess earbud wire around. The top magnets are decorated with fun images too; as you can see Magneat sent me one with a pixelated skull, but there are many other designs to choose from, including a PacMan. This little gadget is actually kind of neat and certainly kept that darn cord out of my way.