Great Dance DVD Workouts
3 Dance-Focused Workout DVDs Worth Trying
Inspired by the dancer bodies from Dancing With the Stars and Black Swan? If you're home and want a solid workout that's fun and pumps you into a cardio zone, try a dance DVD. Here are three DVD workouts FitSugar staffers have tested and reviewed that will deliver passionate, sweat-inducing moves and make you groove.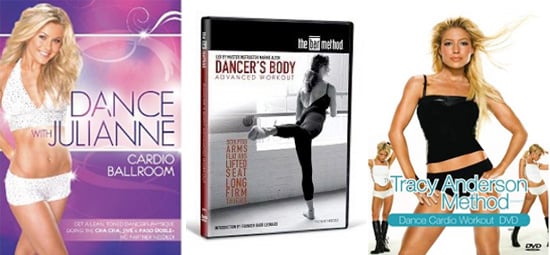 Julianne Hough's Cardio Ballroom ($10). Right from the start, Julianne's upbeat personality gets you excited about the warmups and choreography, and before you know it, you're doing the cha-cha, the jive, and paso doble. This is also the perfect workout video to do with some girlfriends.
Bar Method Dancer's Body Advanced Workout DVD ($20). Led by cheery and pretty-to-look-at-while-you-are-sweating Bar Method teacher and actress Marnie Alton, the DVD offers a variety of the method's staple moves. Like the class, it starts off slow with leg lifts and light arm exercises (it's recommended you use two- to four-pound weights) and then jumps into the method's secret sauce: intense leg work at the barre.
Tracy Anderson's Cardio Dance Workout DVD ($30). Anderson believes that dance cardio is the perfect aerobic workout for creating long, lean muscles and a feminine, toned physique. This workout is high-energy dancing full of hopping, jumping, high kicks, and even the '60s dance step the Pony. The eight combinations that make up the workout are like a jazzy version of petite allegro (the jumping section of a dance class).