Green Tea May Help You Function in Old Age
Want to Age Better? Swap Your Morning Cup of Coffee For Green Tea
We all know that green tea has many benefits — eye health, sunburn protection, and disease prevention, to name a few. Now, a new study can add another possible benefit to that list: green tea may help you remain functional as you age.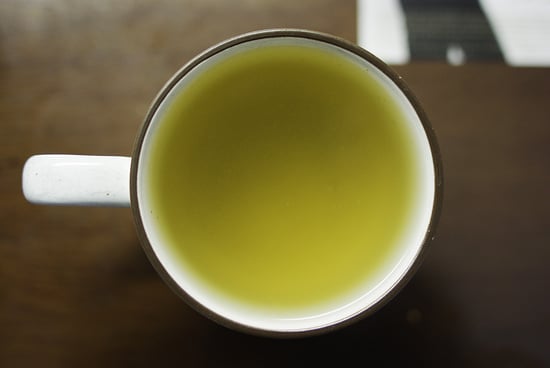 The Japanese study, published in The American Journal of Clinical Nutrition, tracked 14,000 adults 65 years old or older for three years and found that those people who drank at least five cups a day of green tea were about a third less likely to have functional disabilities than those who drank little or no green tea. Even those who only drank two to four cups of green tea a day also experienced a benefit as they aged. "Functional disabilities" were defined as the inability to do basic daily activities or necessities, like bathing or dressing, so the more green tea you drink the more likely you are to be able to stay independent when you're older. The study did find that those who drank green tea tended to have healthier lifestyles overall, but the researchers said a positive effect still existed when diet, exercise, and other lifestyle habits were accounted for.
Five cups may sound like a lot, but it's actually a lot less than you think. So, how much tea should you actually be drinking to reap this benefit and possibly remain independent as you age? Read on after the break.
In the current study, the researchers identified a normal cup of tea in Japan as 100 ml (about 3.3 ounces), and in general the amount researchers recommend is two to three teacups, not mug-sized vessels. If you replace your daily morning Starbucks grande-sized coffee (16 ounces) with the same amount of green tea, you're already at the five-cups-a-day mark. Even so, note that green tea contains caffeine and also may interfere with your absorption of folic acid, so don't go overboard.
If you're ready to enjoy a daily cup of green tea, remember to add lemon to your tea for added antioxidant benefits.
Source: Flickr User masatoshi_