Gwyneth Paltrow Gains Weight For Movie Roles
Find Out Why Gwyneth Paltrow Packed on the Pounds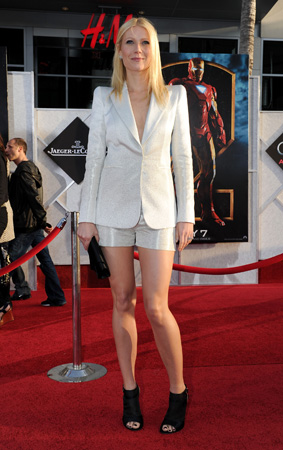 When it comes to fitness and health, Gwyneth Paltrow is known for her super slim frame, a love of detoxing, and an adoration for trainer Tracy Anderson. So imagine our surprise to hear that she packed on the pounds for not one, but two movie roles! It must have been hard work — Gwyneth herself says as much to Us Weekly:
"My trainer, Tracy Anderson, basically, like, pummeled me into submission and made me do all kinds of crazy things. She really changed my body for this movie [Iron Man 2]."
Find out what Gwyneth did when you
.
We're not exactly sure what "crazy things" she did, but since Gwyneth mentions her workouts included high-intensity dance aerobics, we think she may have been doing these strange dance moves that Tracy developed to help Gwyneth get rid of her "bat wings." In the end — as Gwyneth tells Us Weekly — she managed to put on 10 pounds of lean muscle. Unfortunately, she had to get rid of it almost as soon as she got it turning the muscle into "softer" weight.
For her role in Love Don't Let Me Down, the director wanted Gwyneth to quit exercising altogether. She needed Gwyneth to be believable as an alcoholic country singer, which Gwyneth tells Access Hollywood wasn't easy, "Yeah, I tried to gain more, but I think I was also working so hard and such long hours that, you know, it was offset — my Bridget Jones attempt."
But even harder for the star was taking those pounds off after the movie wrapped. Luckily, it all worked out and Gwyneth says she is back to her daily routine of cardio and eating anything she wants.