Gwyneth Paltrow Quinoa Granola Recipe
Gluten-Free Quinoa Granola From Gwyneth's New Cookbook
There's been a lot of hype around Gwyneth Paltrow's new healthy cookbook, It's All Good ($32), but every recipe I've tested so far has exceeded my expectations. This vegan and gluten-free granola is no exception.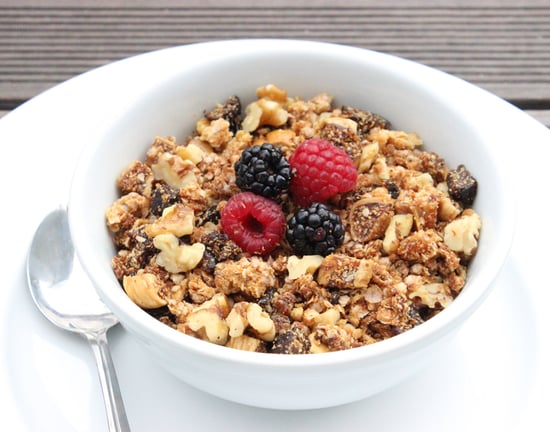 High in iron and completely free of cholesterol, Gwyneth's granola is sweet and nutty with the perfect crunch, everything you want in a bowl of granola. Chopping all the dried fruit is a laborious process, so I'd suggest cooking this over the weekend when you have plenty of time to spare. Once you've made a big batch, you can enjoy it all week long: the granola can be stored in a glass jar for up to two weeks. Keep reading to learn how to make this gluten-free recipe.
Ingredients
1/2 cup extra-virgin olive oil
1/2 cup high-quality maple syrup
3 cups quinoa flakes
Pinch of coarse sea salt
1 1/4 cups roughly chopped raw walnuts
3/4 cup roughly chopped dried figs
3/4 cup roughly chopped pitted prunes
Directions
Preheat the oven to 400°F.
Whisk together the olive oil and maple syrup in a large mixing bowl and add the quinoa flakes, stirring to combine thoroughly.
Evenly spread the quinoa on a parchment-lined baking sheet and sprinkle with a pinch of salt.
Roast, stirring now and then, until the flakes are dried and crunchy and a lovely golden brown, about 25 minutes.
Let the quinoa mixture cool completely before mixing with the remaining ingredients. Store in a glass jar for up to 2 weeks.
Makes 12 half-cup servings.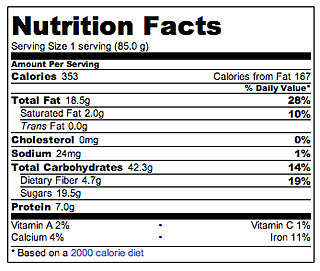 Information
Category

Breakfast/Brunch

Cuisine

North American