Gwyneth Paltrow Talks About Fried Food and Booze in Harper's Bazaar
Gwyneth Paltrow Falls Off the Health Wagon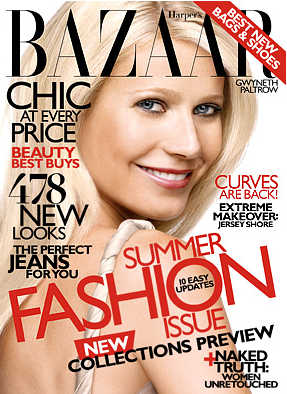 Remember when Gwyneth Paltrow told us she was loving everything Nashville — including its fried chicken, collard greens, and sweet potato pie? It looks like that diet of Southern goodness wasn't necessarily by choice, but encouraged by Shana Feste, the director of Love Don't Let Me Down, which Gwyneth was filming in Nashville. In the May issue of Harper's Bazaar, Gwyneth shares that Feste, "didn't want me to have any definition whatsoever, so I had to stop working out." Feste wanted Gwyneth to look more believable for her role as an alcoholic country singer, which meant no exercise and lots of fried food and booze.
"I was so bad with the food and alcohol in Nashville. If you saw me naked [now] compared to what I looked like when I did Iron Man 2, when I was exercising every day — I'll get it back together, but I've never eaten so much fried food and white flour in my life, ever."
While I've never had a job require me to gain weight, when I visit my mom, I'm usually eating what she cooks. Not only do I want to eat all the favorites I grew up with, I know she'd be really hurt if I didn't spend time cooking and eating with her. I still maintain an active lifestyle, but I'm not going to snub my mother's homemade curries or egg rolls that she spends hours preparing.
Tell me, have you ever abandoned your healthy lifestyle for something?