HabitForge Helps You Set Habits in 21 Days
Cool Health Tool: HabitForge
Building good habits is a big part of living a healthy lifestyle. Whether you're trying to quit smoking, exercise daily, or get more sleep, it helps to have some accountability. A coworker recently turned me on to HabitForge, a simple yet brilliant site that helps you set goals and stick to them.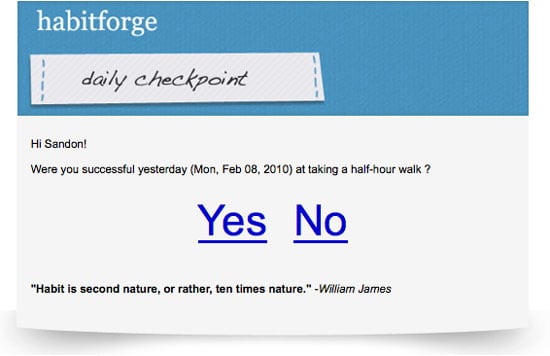 The idea behind HabitForge is that it takes 21 days to form a new habit. When you sign up for the site, you set a goal toward a new habit you want to set. Each day, HabitForge emails you to ask how you did, e.g. "Did you have a cigarette today?"
If you achieved your goal that day, you move forward toward your 21-day endpoint. If you slip, HabitForge starts you over at the beginning of the 21-day counter. You can have multiple goals going at once, with just one daily email checking in. I've found the site to be very effective for forming long-term habits and short-term routines. Have you tried it?