Hair Tips For the Gym
'Do the Right Thing: Locker-Room Hair Hints
Let's face it, guys have it easy at the gym, especially when it comes to their hair. But for women, our luscious locks take a little more maintenance as a result of a quality workout. Don't let a blowout be an excuse to skip your cardio! The next time you break a sweat, keep these tips in mind to tame your mane, keep it healthy, and save time.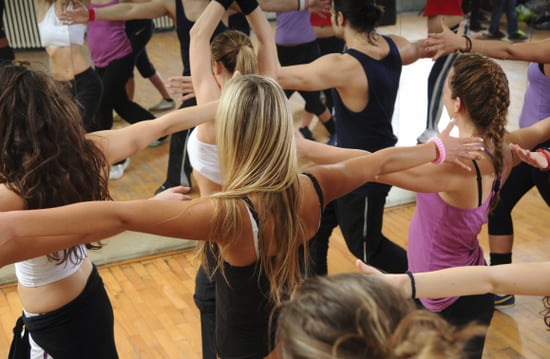 Use a leave-in conditioner: After your workout and shower you're probably back on the go! On your damp hair, spritz leave-in conditioner like It's a 10 Miracle Product ($15). You can skip the blow-dry since it adds shine and controls frizz.
Keep reading for more tips to healthy hair!
Choose the right accessories: Keeping your hair in mind seems like the least of your worries when you are packing your gym bag, but the right accessories can make all the difference for your workout. Nothing is worse than a headband that keeps slipping during a class or on the treadmill. Wearing a nonslip headband will keep hair in place, eliminating any distractions. Using no-tug hair ties for your ponytail will prevent breakage and those infamous hair dents, not to mention they make a cute arm accessory!
Add oil: Enjoy the benefits of a pricey leave-in salon treatment during your workout. Add a quarter-sized drop of Moroccan Oil ($40) to your hair before you work out and pull it into its usual bun. Oil treatments usually require you to sit for an hour under heat, but the heat from your workout will do the job without wasting time. After you tone up, simply wash and style as normal.
Pack a dry shampoo: Nothing ruins a blow-dry like time at the gym. It doesn't have to be that way thanks to dry shampoo. Mineral clay helps absorb the oil and prevent that greasy feeling sweat can cause. Using this type of product and styling as usual will extend the life of your fabulous hairdo.