A Half Ironman Athlete
Lessons Learned: A Half Ironman Athlete Dishes the Dirt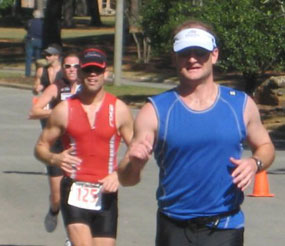 Brad Pitt "married" into kids. Kate Middleton is about to marry into royalty. Me? I married into athleticism. My in-laws treat their vacation like a weight-loss camp. They don't need to lose weight, and they don't impose their lifestyle on anyone else, but you can't help but catch the fitness fever in their presence. My brother-in-law Jim, age 32, is no exception to the rule. A jock his whole life, it was no surprise to us when he decided to tackle a half ironman race with little training behind him. He finished the triathlon, but it wasn't without its challenges . . . and big ones at that. As a novice, he learned a few tough lessons that made his journey an uphill battle. After completing his first race, he took his lessons learned and used them just a month later as he conquered his second half ironman in a much smarter and quicker fashion.
The lessons learned:
Read the rules. Skimming doesn't count. He wore his iPod Shuffle and was later told it was a rule that he couldn't wear ear buds during the race. He ended up tossing it to the side of the road never to be seen again.
Early bird gets the worm! Even though you may think you are prepared the night before, it's a good thing to wake up earlier than necessary. It will give you time to deal with potential disasters and if nothing else, relax!
Map it out. Know where to be and when to be there the night before. When the race kicks off before the break of dawn, it's good to know what goes where before the adrenaline kicks in. The biggest concern you should have in the morning is getting to the starting line as even that can be a challenge sometimes.
Practice your transitions. As organized as he might have been, Jim accidentally left his biking shoes in his running bag. His plan was to put the bike shoes into the bike bag when he got to the race. Instead, he left them in the original bag and had to bike the entire 66 miles barefoot! Do a dry run of the transitions so you won't be surprised when it's go time.
Do your homework. Attend the pre-race briefing so you know all the facts before starting the race. Small nuances or rule changes may be announced, and you may even learn a few pointers to help you tighten up your finish time.
Eat up. One of the things Jim did right was to eat well before the race. It is important to test yourself with different foods prior to the competition so you know what to feed your body during the actual event.
Do you have any lessons you can add to the list?