Half a Million Die From Smoking Each Year in the United States
Smoking Deaths on the Rise: Here's How to Quit Once and For All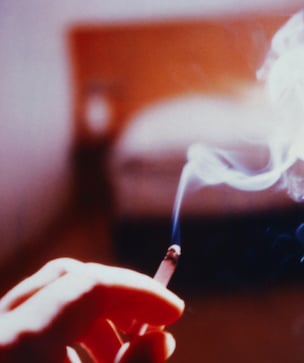 Here's a scary new stat to swallow: smoking causes half a million deaths each year in the US, killing slightly more men than women.
For this report, Dr. Brian Rostron, then of the University of California, Berkeley, tracked data that asked 250,000 people if and how much they smoked currently and in the past. The participants were monitored for two to nine years following the initial survey, and by the time it ended in 2006, about 17,000 of them had died. Based on this figure, Rostron calculated that there were an average of about 290,000 smoking-related deaths in men each year between 2002 and 2006 and 230,000 in women — a total of over half a million deaths. Have I got your attention yet? This is an epidemic.
If you are asking yourself, why should I quit now? Quitting can help you live longer and be healthier — no matter how long you've smoked. Just some of the benefits include having a better quality of life, fewer illnesses like the flu and cold, and experiencing lower rates of bronchitis and pneumonia. Here is a full list of the health benefits you'll experience if you quit smoking now.
Keep reading to learn how you can quit smoking.
To help kick the habit for good, here are some tips and tactics:
Join a support group. Talking to others who are going through the same experience as you can help you stick to your quitting plan and achieve success.
Exercise more. Getting moving is a great way to remind yourself why you shouldn't smoke. Exercise can reduce your stress and help you relax far better than cigarettes. Even just five minutes of walking can help fend off urges.
Go over the counter. Nicotine replacement therapies and stop-smoking aids like gum, lozenges, and patches really do help ease withdrawal symptoms. Even if you want to go cold turkey, it might help to have some gum on hand for the times when you're especially irritable or antsy.
Chew away your cravings. Regular gum can also be effective at battling cravings. Keeping your mouth busy will help keep your mind off smoking.
Turn to healthy snacks. Similarly, make sure you have plenty of healthy snacks on hand. Nibbling on celery, rice cakes, pistachios, and other low-cal treats will occupy your mouth and your hands.
Get rid of the triggers. Identify the things that make you want to smoke and, if possible, eliminate them from your life, at least temporarily. If you identify smoking with drinking alcohol or coffee, it might help to ditch those habits for a little while.
Reward yourself. Once you hit important milestones like the six-month mark, make sure you treat yourself to something special — like a nice dinner on the town or a weekend getaway.