Halloween Candy With Fiber and Protein
Trick or Treat: What's the Healthier Halloween Choice?
I'm not going to tell you not to eat Halloween candy this year, because we all are a little psyched for Snickers and Reese's! When you head to the office bowl or snag a treat from your kid's stash, it's nice to have a list of candy you know is slightly healthier either because it's trans-fat free or contains a little fiber or protein. Based on info from nutrition labels on bags of Halloween candy, check out the lists below to find out how to choose your fun-sized treats wisely.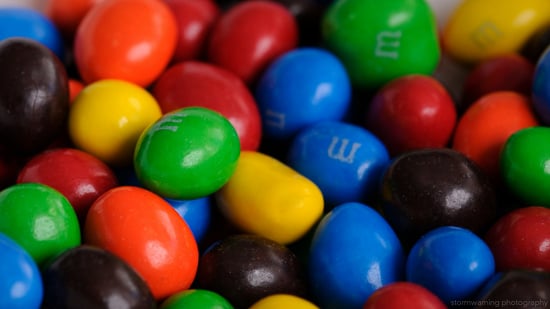 If you're avoiding hydrogenated oils, go for:
Candy corn
Heath Bar
Hershey's Bar
Kit Kat
M&Ms
Peanut M&Ms
Peanut Butter M&Ms
Mounds
Mr. Goodbar
Nestle's Crunch
Reese's Peanut Butter Cup
York Peppermint Patty
If you want a little bit of fiber, check out the fiber content in the candy below:
Peanut M&Ms: 0.5 grams
Mounds: 1 gram
Mr. Goodbar: 0.5 grams
Peanut Butter M&Ms: 0.5 grams
Snickers: 0.5 grams
Snickers Peanut Butter: 1 gram
Keep reading to find out which fun-sized treats offer protein and which are lowest in calories and sugar.
If protein is important to you, check out the list below:
Baby Ruth: 1 gram
Butterfinger: 1 gram
Hershey Bar: 1 gram
Kit Kat: 1 gram
Peanut M&Ms: 1.5 grams
Peanut Butter M&Ms: 1.5 grams
Reese's: 2 grams
Milky Way: 0.5 grams
Mr. Goodbar: 1.5 grams
Snickers: 1.5 grams
Snickers Peanut Butter: 2 grams
Take 5: 2 grams
Twix: 1 gram
If you're watching your calorie intake, these contain 70 calories or less:
Eight candy corn: 60 calories
Charleston Chew: 30 calories
Hershey's Bar: 67 calories
Kit Kat: 70 calories
Nestle's Crunch: 60 calories
Three Musketeers: 63 calories
York Peppermint Patty: 60 calories
If you want a candy that's low in sugar, these choices are the best:
Charleston Chew: 4 grams
Mounds: 7 grams
Nestle's Crunch: 7 grams
Which candy will you choose?
Source: Flickr User stormwarning.