Before you eat your candy this Halloween, earn it with a run! Giving traditional 5Ks and half marathons a spooky twist, these races are filled with zombies, costumes, and courses that challenge your strength and agility. No need to be frightened, either. Perfect for all ages and levels, your entire group costume can participate. When all is said and done, you'll be guaranteed an active adventure with tons of memories.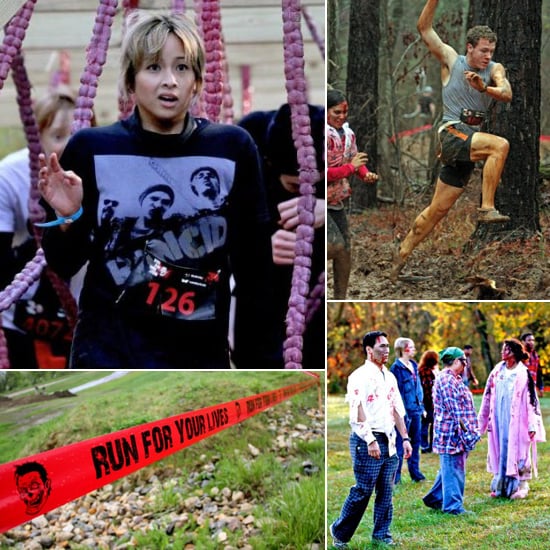 Devils Chase 6.66 Miler: Not only is this race spooky because it takes place in the "Halloween capital of the world," it is also filled with the superstitious references to 666. Be ready to dress like a devil and witness a huge zombie flash mob.
Cost: $40 to $45, depending on registration date.
Prize: Cash and costume prizes to the "top devils," free shirt, and a finish-line flash mob.
Location and Date: The run takes place on Oct. 26, 2013, in Salem, MA. The virtual run happens Oct. 25-27, anywhere in the United States.
Run For Your Lives: Ready for a spooky challenge? Test your speed, strength, and endurance through miles of obstacles — all while being chased by zombies. Complete with a finish-line festival, this is a race you won't forget.
Cost: $40 to $45, depending on registration date.
Prize: Race bib, medal, t-shirt, and admittance to the apocalypse party.
Location and Date: Nationwide, for specific dates and locations, go here.
Mad Dash SF: On the Sunday before Halloween, dress up and run through the woods of Golden Gate Park. All ages are welcome, and the 5K dash is complete with an afterparty and live music.
Cost: $25 to $35, depending on registration date.
Prize: All registered runners receive a goody bag, wicked woods t-shirt, afterparty admittance, and the chance to win the $1,000 cash prize.
Location and Date: Oct. 27, 2013, in San Francisco, CA.
Halloween Half Marathon: A race for Halloween fanatics, this half marathon take a traditional Halloween character and themes a race around it. Everyone arrives in costume, and the medals are so unique, they've become collector's items over the years.
Cost: $100
Prize: A signature Halloween-themed medal.
Location and Date: Oct. 26, 2013, in Miami, FL, and Oct. 27, 2013, in Atlanta, GA.
Run Scared 5K: When you participate in this race, not only will you earn your candy, you'll be benefiting The Leukemia and Lymphoma Society, too. Competitors of all ages and pets welcome.
Cost: $25-$40, depending on registration date.
Prize: Finisher's technical fabric shirt, free event photos, postrace treats, costume contest, and benefiting a great cause.
Location and Date: Oct. 27, 2013, in Seattle, WA.
HoBooken Halloween 5K: This casual is race good for runners of all levels and the perfect way to kick off your Halloween celebrations. The views of New York City are spectacular, and there's a great postrace spread.
Cost: $30 or $75 for the charity bib.
Prize: T-shirts, goody bags, and a postrace feast.
Location and Date: Oct. 26, 2013, in Hoboken, NJ.