Hanging Knee Tuck Ab Exercise
Abs and Arms: Hanging Knee Tuck
Skip the crunches and challenge your entire body when working your abs. Equinox trainer Lauren Fairbanks is a fan of the hanging knee tuck for toning the upper body while targeting the abs. It's a challenging move that truly pays off. You use the abs as you pull the knees to your chest, and as you lower the legs back down, the abs work to keep the torso stable. Plus, just hanging from the bar works the arms and upper back quite nicely.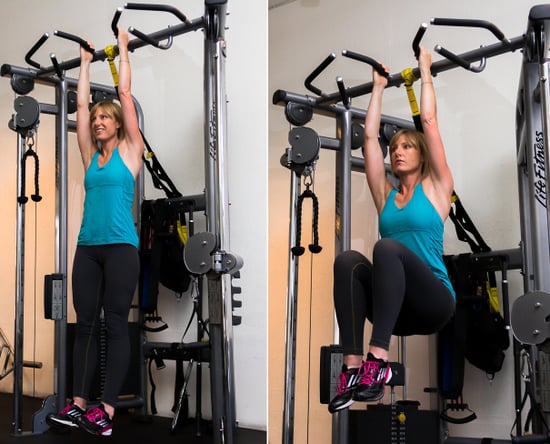 Start by hanging on a pull-up bar with palms facing out, or use the hand grips on the cable-pulley machine. Do use a box if you need help reaching the bar. Pull your shoulder blades down your back to keep your shoulders away from your ears. You will be working your lats to keep your scapulae (shoulder blades) stable.
Exhale, pulling your abs to your spine as you raise your knees to your chest. Tuck your pelvis under, rounding your low back, to ensure the low abs are working more than the mighty hip flexors.
Lower the legs down slowly and return to the starting position. Do keep your abs engaged to prevent your legs from swinging behind you.
To prevent momentum from assisting the leg raise, pause in the starting position for a moment before beginning the next rep.
Do three sets of 10 to 12 reps.
Source: Megan Wolfe Photography at J+K Fitness Studio