Is it Harmful to Hold It When You Need to Pee?
You Asked: Is "Holding It" Harmful?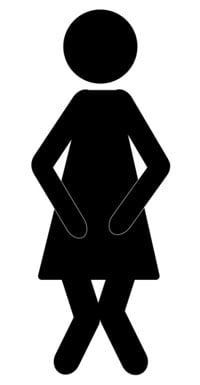 Dear Fit,
I do a lot of driving and running around for my job, which I love because I'm not one of those people who could sit at a desk all day. The only issue is that I don't have a lot of extra time to do normal things like use the bathroom. I often experience a full bladder and "hold it" if I have a deadline to meet or place I need to be. Aside from being uncomfortable, is this bad for my body? Do I have to worry about bladder infections or, worse, my bladder bursting?
—No Time to Pee
Believe it or not, you're not alone. Many people have jobs where they go, go, go and don't have much time to really "go" when they need to. To find out of you're doing your body harm
.
Have no fear because holding it instead of urinating when you feel the urge won't lead to a burst bladder, because it's a strong muscle. Holding it, however, may make you more prone to developing recurrent urinary tract infections (UTIs). When you wait too long to relieve yourself, it can cause the muscle to overstretch, which over time can actually weaken your bladder. You'll know if you have a UTI because it causes a strong urge to pee, pain in your urethra, blood-streaked urine, or a burning sensation when you do use the bathroom. If you've never had a UTI, I'd recommend doing all you can to prevent one, because take my word for it — it's not something you want. Not only are UTIs not fun, but they can lead to incontinence, which means you may lose your ability to hold it.
I'm also worried that because you're limiting your bathroom breaks, you may also be limiting your water intake to decrease your need to have to go. Not getting enough fluids can cause constipation, dehydration, and just makes you feel crappy.
My advice is to listen to your urge to go and make a point to take regular stops to the ladies room. Not only will you keep your bladder healthy, but washing your hands afterward will also help prevent you from getting sick.