Hayden Panettiere Stays Fit on the Cover of Self
Hayden Panettiere Says "Save the Whales"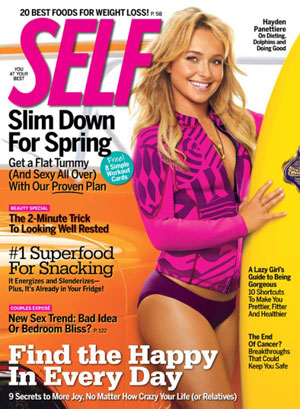 When I think of healthy, fit, and strong celebrities, Hayden Panettiere is one famous lady who comes to mind. How does she stay in shape? The Heroes actress lifts weights twice a week and runs 30 minutes or longer at least three days a week. But she doesn't do it to look and feel good. She does stay fit in order to stay strong and build endurance for diving. Yep, Hayden loves to free dive in the ocean (without scuba gear) and she told Self,
"I feel like I'm in the best shape of my life after a dive. Swimming works all your muscles — your core, glutes, quads, even the ones you didn't know you had, like the little ones in your feet and hands!"
Free diving sounds like a blast! Read what Hayden has to say about the state of cellulite and her body when you
.
"When I exercise, I just feel good. I'm not a 6-foot-tall skinny model, and yes, I have cellulite, but I'm not going to apologize for my body. If you love your body, it will love you back. Confidence is beautiful."
Staying fit allows Hayden to be strong enough to swim with dolphins because she says, "You have to swim fast to keep up!" Not only does Hayden love to swim with the ocean's creatures, but she also swims for them. She's a spokeswoman for The Whaleman Foundation, an organization dedicated to protecting marine life, which she feels very strongly about.
Even though you probably know Hayden as Claire, the invincible cheerleader on Heroes, you can also see her in another fearless role in the documentary The Cove, where she joins a protest to prevent the capture and slaughter of whales and dolphins.
Check out this video clip of Hayden free diving with dolphins.
Just to warn you, parts of this video shows extremely graphic footage of animal brutality from The Cove.