Headstand Yoga Helps Students and Teachers Get Ahead
Headstand Gives Students the Yoga Advantage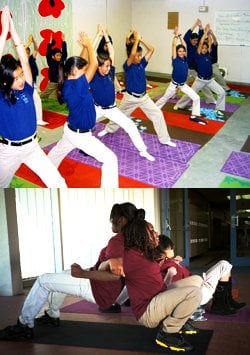 Is it just me or has Waiting for Superman brought education to the place where it should have been all along — to the forefront of many Americans minds. While people are scrambling around wondering how they can make a difference in the world of education, one organization is taking the bull by the horns and making a dent with an unexpected practice: yoga. While P.E. classes can sometimes relieve teenage angst, the peer pressure involved may also increase it. Seeing the need for peace and tranquility in schools and the students themselves, Headstand is blazing a new trail by bringing yoga into the classrooms of some lucky K-12 KIPP charter schools.
Kids who were once unfamiliar with the age old practice are now finding the benefits of downward dog and sun salutations in the middle of their daily academic routine. Having a rough time in the middle of class? Gone are the days of spending time in the corner with a dunce cap. These kids are encouraged to step outside and breathe and stretch until they are ready to return to the room for learning. Along with relieving stress, the program credits the practice of yoga with "higher self-esteem, better behavior, enhanced physical health, and improved grades." Sounds like a no brainer, right?
Curious to see how it works and want to know how you can get involved?
Yoga instructors involved with the program come to the schools and incorporate the empowering practice into the curriculum with the support of the schools' administration, faculty, and parents. And students aren't the only beneficiaries. We all know teachers could use a break, and that's exactly what they get with Headstand. A couple times a week, the teachers are treated to yoga classes as well. I can certainly remember a few of my former teachers who could have used some breathing techniques of their own. I bet you could, too.
The beauty of the program is not only the practice itself, but that it reaches children who may not otherwise be exposed to yoga. Like many charter schools, KIPP schools serve underprivileged students who might otherwise never be exposed to meditation. As they dream about college and what it will take to get there, Headstand and KIPP schools are working together to help them reach their goals. If you want to support the growth of Headstand in classrooms across the country, check out founder Katherine Priore's vision and make a donation.
I may sound a bit on the hippie side, but how great would it be if instead of classroom shootings and playground bullying we heard of classroom meditations, respectful coexistence, lower obesity rates, better grades, and lower stress on our kids? Are you humming "Kumbaya" yet?