The Health Benefits of Celery
Cut Up Your Celery, and Eat It Too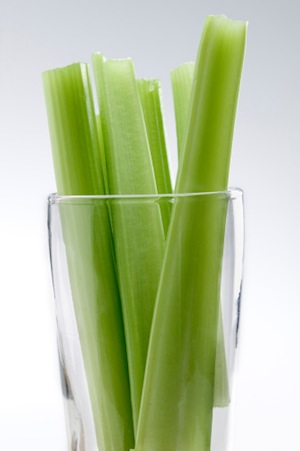 Out of all the veggies and fruits in my fridge, I feel like celery is the underdog. It often goes unnoticed and pales in comparison to a bright red bell pepper or a crisp cucumber. But hold up! Celery is finally back in season, usually inexpensive, and makes for a healthy, light snack. Even if you ate a long stalk of celery, you'd only be consuming six calories.
Not only is celery low in calories, but it's also low in cholesterol as well. And who would have thought that celery is an excellent source of vitamin C? So the next time you feel a cold coming on, pull out the celery stalks! Its one downside is that when compared to other veggies, it's high in sodium; a medium stalk contains 32 mg of sodium.
If you want to incorporate more celery into your life, but don't know where to start, here's what I do: swap out chips and crackers for celery when eating spreads, toppings, and dips. Some of my favorite ways to eat the veggie are with almond or flax butter, low-fat cream cheese spread, spicy red pepper hummus dip, or onion dip. What celery lacks in flavor, it certainly makes up for in texture and its crunch-factor!