Health Benefits of Cold Soups
Fill Up and Cool Down With Cold Soups This Summer
In 90-degree weather, the last thing you want to do is turn on your oven and make a five-course meal. And I get it, there's only so many things you can make without an oven — salads, sandwiches, dips, chips, tomato eggplant stacks, etc. — but don't discount soups just because they are typically served hot. Cold soups are not only delicious during the Summer months, but they also are quick and easy to make, are often filled with fresh, ripe, seasonal vegetables and fruits, are low in calories, and are packed with nutritional goodness.
Similarly to salads, you can get pretty innovative with your soup recipes, too. Need to use up the other half of that watermelon? Try making some watermelon gazpacho. Got some leftover spinach? Whip up some spinach gazpacho.
Keep reading for more cold soup inspiration.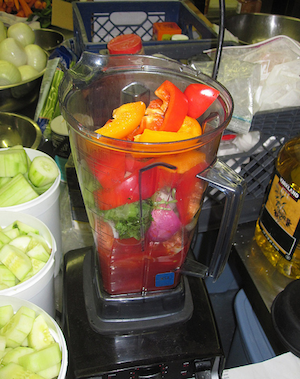 Cold soups in the Summer are great because produce is at its peak, so you can use an array of vitamin-rich fruits and veggies in a variety of soup recipes. With cucumbers you can make yogurt soup with spelt, cucumbers, and watercress, and with peaches try peach cucumber gazpacho. These hearty, low-calorie soups will also fill you up quickly, so you'll most likely eat less during your main meal. Nothing says Summer like a tasty bowl of chilled soup.
Source: Flickr Users abnehmen.net and Zaskoda