Health Benefits of Goldenberries
Goldenberries: The Next Superfood?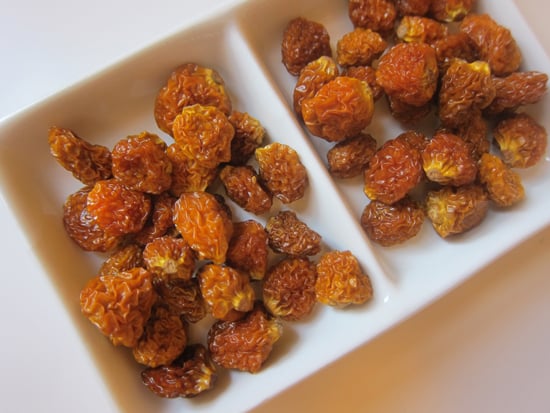 Orange-toned goldenberries, also known as gooseberries or Incan berries, have been cultivated in South America for centuries and revered for their health benefits and mouth-puckering sweet and sour flavor. A handful of goldenberries provides a hefty dosage of antioxidants, and in traditional folk medicine practices, goldenberries are believed to help maintain a healthy weight, ward off disease, and improve organ function.
Goldenberries contain anti-inflammatory bioflavonoids and are also a good source of vitamins A (great for eye health!) and C. Unlike more common dried fruits, packaged versions of this trending superfood often contain no added sugars or preservatives, which means you aren't loading up on unnecessary calories and chemicals. The wrinkly, thick-skinned exterior contains a seedy, chewy interior that bursts with tart, citrusy flavor, similar to a kumquat. See how to prepare and eat goldenberries.
To enjoy goldenberries in their simplest form, simply eat them straight out of the bag. Otherwise, try mixing the dried berries in trail mixes or salads. You can add some snazz and impress your guests by pairing goldenberries with culinary delicatessens like chocolate, wine, or cheese. Blend a handful in smoothies, make a goldenberry jam to spread on toast, or create a sweet or savory goldenberry sauce. Sautéed tofu with a goldenberry glaze and vanilla bean ice cream with goldenberry coulis are just a few recipes ideas to experiment with.
Have I enticed you to try them for yourself? Whole Foods stocks Navitas Naturals Goldenberries ($6) and Kopali Organic Goldenberries ($4), but you can easily order them online.
Have you ever tried goldenberries?