Health Benefits of Green Garlic
Spring Vegetable to Try: Green Garlic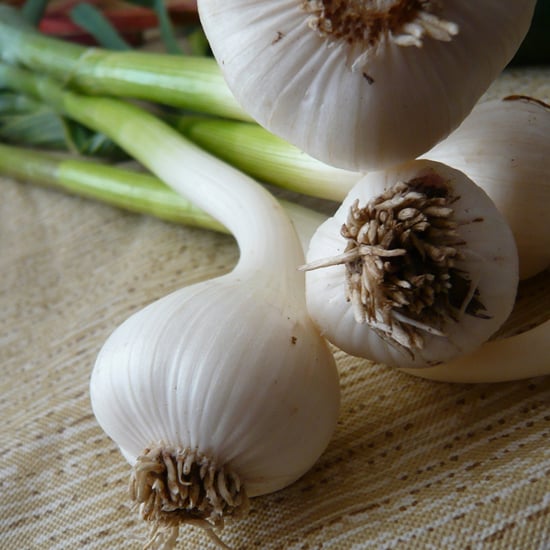 When green garlic first appears at the farmers market, you know that Spring has sprung. Picked before the bulb is fully mature, green garlic resembles a large scallion, with a small white base and a dark green stalk. The green garlic season is short (only a few weeks), so make sure you pick a bunch up when you see it, to enjoy the mild, slightly sweet baby garlic stalks.
Green garlic is still technically garlic and contains all the amazing health benefits found in a mature bulb. Garlic is notable for its immune-boosting qualities: allicin, the sulfur compound found in garlic, responsible for its pungent smell and taste, is a natural antibiotic and can help the body block infections. If you suffer from anemia or low iron levels, garlic also helps to keep iron levels high. Most people know that vitamin C helps increase iron metabolism, but garlic contains the protein ferroportin that carries stored iron from inside a cell to outside of the cell, assisting the body as needed.
Find out even more health benefits and how to cook with green garlic after the break!
Due to its richness in polysulfides, garlic also helps protect against heart disease. And if that's not enough, garlic is rich in manganese, a mineral linked to HDL or "good" cholesterol. When manganese levels are high, HDL is high, and vice versa.
Integrating green garlic into meals is incredibly easy. Simply slice it thinly, as you would a green scallion. You can use both the white bulb and the tender portion of the green stalk. Here are a few ways to easily add green garlic to your meals:
Stir it into a homemade salad dressing.
Use it as a garnish for soups or chili.
Sauté it as you would normal garlic for a stir-fry or for a vegetable dish.
Stuff a whole chicken with whole green garlic and lemons, then roast.
Use it as a pizza topping, but sprinkle it around the pizza before you add the cheese, so it doesn't burn in the oven.
Source: Flickr User MMChicago