Health Benefits of Meatless Mondays
4 Reasons to Go Meatless This Monday (and 4 Mouthwatering Recipes)
Never given Meatless Monday a try? Aside from mixing up your dinner menu with exciting and healthy vegetarian meals, going vegetarian even one day a week can not only save you a little dough, but offers health benefits as well. If you're on the fence about it, here are some reasons that may convince you to skip the meat every Monday.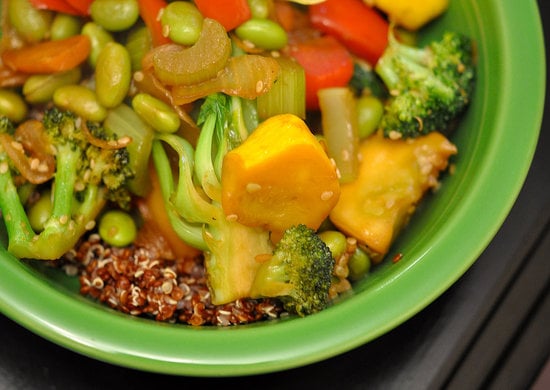 For dropping pounds: Recipes that involve meat can run you tons of calories, which means delving out smaller portions in order to avoid overdoing it. If you don't eat much for dinner, you'll be itching for more food soon after the meal is over, which translates to more daily calories consumed. Many vegetarian meals are all about the veggies, and since they're low in calories and high in fiber, they fill you up without racking up the cals. You'll love this recipe for vegetarian stir-fry with quinoa, full of fresh veggies.
They're fiber-licious: Aside from the fiber in veggies, vegetarian meals often focus on whole grains. Quinoa, brown rice, oats, barley, and millet are great sources of fiber, and since they're so filling, a small serving is all you need to feel satisfied. Give this carrot raisin spelt berry salad a try.
Keep reading for two more reasons to go meatless this Monday.
They're protein-packed: Meat may be one of the highest sources of protein, but it's not the only way to get your fill. Vegetarians who choose meals made with whole grains, nuts, beans, tofu, tempeh, and seitan will have no problem getting their daily quota. Here's a delicious vegetarian recipe bursting with protein — easy tofu crunch salad. It's a great alternative to chicken salad you can enjoy between two toasted pieces of whole grain bread or topped on a bed of greens.
To benefit your ticker: Saturated fat and cholesterol goes hand in hand with meat dishes, so if you're concerned about your heart, vegetarian meals can be a much healthier option, as long as they're not loaded with full-fat dairy products. Here's a recipe for creamy avocado pasta that'll remind you of fettucine alfredo, but it's made with heart-healthy avocado instead of cream, butter, and cheese. Toss in extra veggies like zucchini and asparagus for an even healthier dish.
Source: Oh She Glows, Healthy Happy Life, and Oh She Glows