Health Benefits of Soba Noodles With Recipes
Healthy Kitchen Staple: Soba Noodles
After learning what Skinny Bitch author Kim Barnouin's kitchen staples are, I took a peek in my own cabinets. Besides having a lot of the basics (and everything on Kim's list), I realized that one of my staples is a bit more unusual: soba noodles. Growing up with an Asian mom, I was fed soba noodles as much as other kids were given PB&J. My mom knew that it was an easy way to get essential nutrients into my diet — I mean, what kid doesn't love noodles?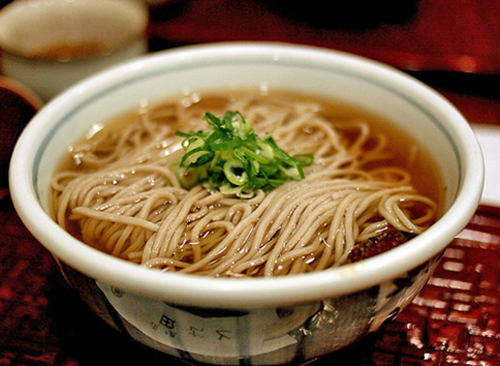 Extremely versatile, soba noodles can be served hot or cold, and work well in soups, salads, and stir-frys. And because they're made from buckwheat flour, they're also good for you. Trainer Harley Pasternak loves soba noodles because they're full of fiber, and I love that they're full of protein, iron, and amino acids.
Soba noodles are in most major supermarkets in the Asian grocery aisle, or you can find them at any Japanese market. Pick some up tonight and use them in this healthy tofu and peanut sauce stir-fry — you'll be a soba convert.
Source: Flick user kadluba