The Health Benefits of Spices
Healthy Sugar and Salt Substitutes: Spice It Up!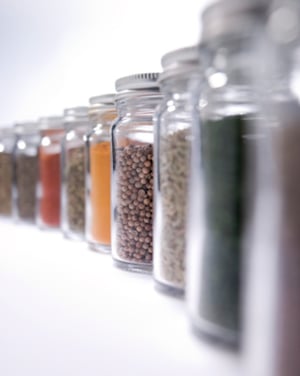 If something you are eating (or drinking) needs a bit of a kick, don't turn to salt or sugar to do the trick, try adding some spices! Spices are not only lower in calories, but also offer a long list of health benefits including curbing hunger, strengthening muscles, boosting your brainpower, and improving your mood.
A simple way to spice up your life is to start with your daily cuppa joe. Instead of sugar, you can use spices like nutmeg, cinnamon, or a pumpkin spice mixture to help add some flair to your coffee. Research has shown that cinnamon can temper the blood sugar surge that follows a sweet treat, so get creative and add some cinnamon to your meals! Use it in fresh fruit salads, yogurt, or even this cucumber salad.
When it comes to really pungent cayenne, you can experiment by adding it to pasta dishes or sauces to give them a kick. The active ingredient in cayenne spice — capsicum — is said to be able to kill cancer cells without harming healthy ones and help with digestion and gas, so be adventurous when mixing it into dishes.
Learn about more spices that are good for you.
Who can forget about turmeric! Turmeric is often found in Indian dishes, giving them their nice yellow hue. It is known to reduce inflammation and accelerate muscle repair after heavy exercise, as well as support the immune system against stress and help maintain healthy cholesterol levels. Rather than add salt to season meats, just add turmeric. You can also use it in any egg or lentil dishes as well.
If cooking with spices overwhelms you, just know that you can mix and match your own spices to create some delicious blends. You can even make your own homemade spiced almond butter that covers all of your spice bases including cumin, chili powder, cinnamon, and cayenne, so you can't go wrong!