Healthiest Items at a Coffee Shop
5 Ways to Ditch the Latte Love Handles
For many of us, a trip to the neighborhood coffee shop is a daily ritual that we aren't willing to pass up. But that comforting cup of joe may be what's preventing you from losing those last few pounds. With a few simple swaps and substitutions, you can still get your caffeine buzz and save calories without ever having to use the word "diet."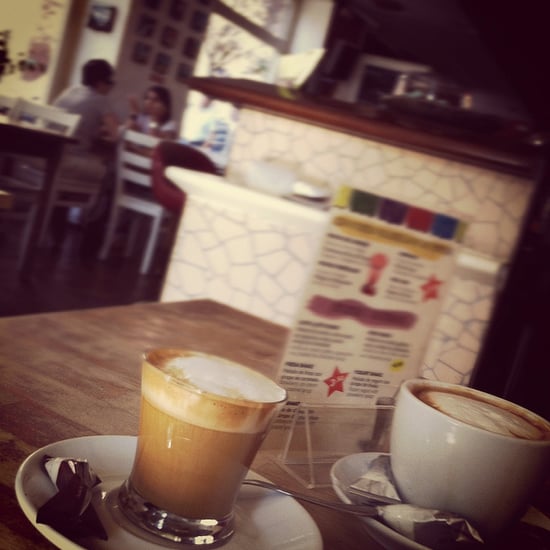 Skip on sugar: Many of your favorite coffee drinks and treats are loaded with sugar. A refreshing iced vanilla latte has Vanilla Cream, so you can enjoy your latte without the guilt. Or, better yet, skip the sweetener altogether and use spices like cocoa powder and cinnamon to sweeten your drink.
Oat-MEAL: Oatmeal has really made a comeback and become a quick breakfast staple when you're on the go. Good thing, because it's filled with fiber to keep you full all morning and has only 140 calories per serving. Choosing oatmeal over a sugary granola (usually it is just a topping!) can save you about 300 calories and a midmorning sugar crash.
Rethink your latte: Besides the caffeine, the best part about a latte is the warm milk. Swap a plain latte, about 140 calories, for a lower-calorie option like a cafe au lait (coffee with steamed milk) for only 50 calories, iced coffee, or cappuccino.
Terrible toppings: Toppings taste good and make your drink "instagramable," but they aren't worth the setback. Whip cream (104 calories) and a drizzle of caramel sauce (100 calories) will mean about 30 minutes on the spin bike to make them go away.
Pick your fruit: Coffee shops do a great job at displaying pastries, almost too good a job! As tempting as that blueberry streusel muffin looks, the reality is, it won't be doing you any favors with 360 "empty" calories. Choose the actual blueberries themselves and save about 280 calories.
Source: Flickr User xavi talleda