Healthiest Snacks at Convenience Stores
Healthiest Snacks at the Convenience Store
You're on the road and you've already polished off the healthy snacks you stashed in your bag. Hunger pains are moving in, and since fast food is not an option, you head to the nearest gas station/convenience store. Guess what? They aren't just filled with soda and Snickers. Here are some nutritious snacks you can feel good picking up while filling up.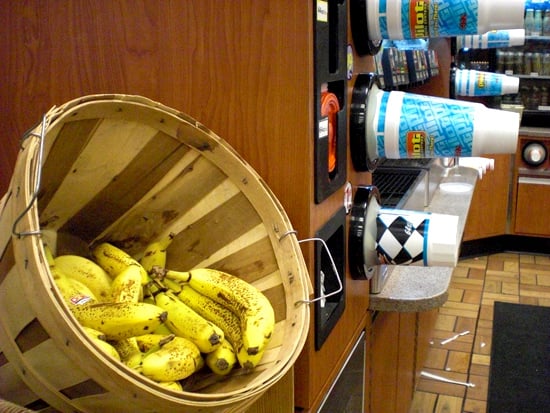 Cheese sticks: These tasty sticks are only 80 calories and offer eight grams of filling protein.
Triscuits: Made with whole wheat, oil, and salt, six crackers have only 120 calories.
Yogurt: Greek is best because it's so high in protein, but if you can't find that, look for nonfat yogurt made without artificial ingredients.
Nuts: Try to find unsalted packages, and check out this visual of what 100 calories of nuts looks like so you don't go overboard.
Dried fruit: Raisins, dried cranberries, apple rings, and even bags of mixed fruit are often next to the nuts. A quarter-cup serving ranges from 80 to 150 calories.
Fresh fruit: You probably won't find organic, but at least it's fresh. Many convenience stores sell apples, oranges, and bananas.
Tortilla chips: Skip the flavored Doritos and opt for plain old Tostitos. Made with corn, oil, and salt, a one-ounce serving (about seven Restaurant-Style chips) contains 140 calories, 115 mg of sodium, one gram of fiber, and two grams of protein. Not the healthiest snack on the planet, but certainly not the worst.
Popchips: A newer chip on the block, neither fried nor baked, these potato chips are popped and lightly seasoned, so a three-ounce serving is only 120 calories.
Popcorn: Look for plain popcorn rather than cheddar-flavored or kettlecorn.
Orange juice: Go for the real deal (not from concentrate) for a boost of vitamin C.
Milk: It's a protein-packed beverage that's much healthier than a bottle of cream and sugar-loaded coffee drink.
Fruit-flavored seltzer: Calorie-free and so refreshing, flavored seltzer is a little more exciting than plain old water.
Source: Flickr user Casey Serin