Healthy No-Cook Dinners
Stay Cool With 5 Healthy No-Cook Suppers
On a sweltering night, the thought of turning on the oven or stovetop is painful. Whether you're wiped out from a busy day at the office or it's just too hot to get cooking with heat, look to these five healthy no-cook dinners for inspiration. All you'll need a food processor and decent knife skills to create these tasty and satisfying dishes.
Spicy Jalapeño Gazpacho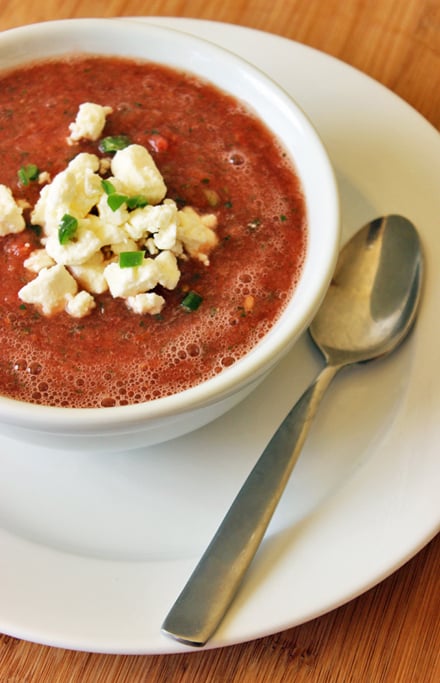 Sweet, spicy, and refreshing, this cooling watermelon jalapeño soup blends an array of hydrating produce with fresh herbs. Sprinkle diced jalapeño in there for extra heat at the end and feta cheese for contrasting texture.
Lemon Tuna Salad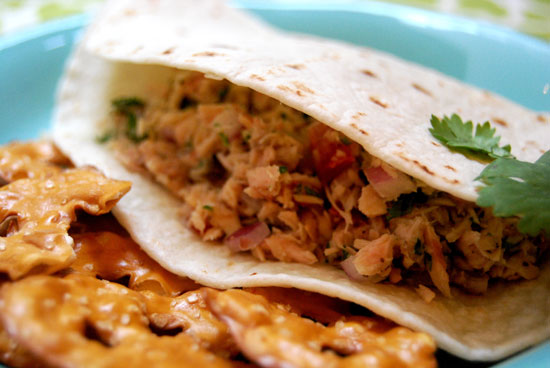 Popping open a can of tuna is one of the quickest and easiest ways to make a protein-rich dinner. Lay off the mayo and keep things light and fresh with this lemon tuna salad that brings herbs and chopped veggies to the mix for extra flavor.
Raw Rainbow Pad Thai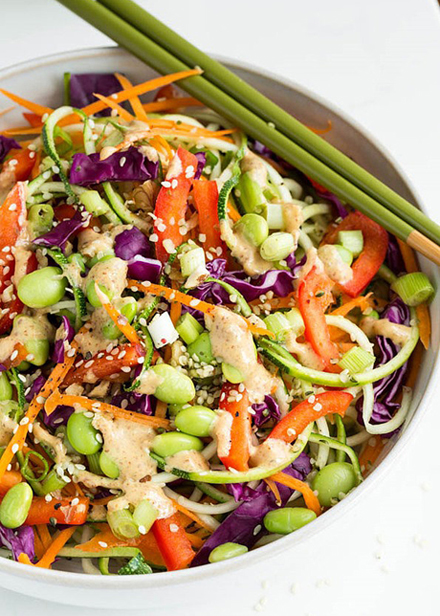 Forget boiling water for noodles! This recipe for raw rainbow pad thai uses zucchini noodles for extra flavor and crunch. Toss it all in a spicy peanut lime dressing, which also requires just a few steps.
Keep reading for two more no-cook recipes.
Cucumber and Avocado Caprese

Bulk up your standard caprese with this cucumber and avocado variation. Just like the original, there's no cooking necessary. However, you can expect to do more a little more chopping and slicing.
Zucchini Noodles With Tomato Sauce
Another riff on zucchini noodles comes in the form of this raw tomato, basil, and zucchini pasta. This Italian-inspired dish gets its chunky, thick, and satisfying tomato sauce from sun-dried tomatoes and crushed walnuts.