Healthy Acorn and Butternut Squash Recipes
3 Winter Squash Recipes to Warm You Up
There are many reasons to love the bounty of squash that's available during the Winter. Not only is squash low in calories, but it's also a great source of the antioxidant beta carotene (which is responsible for squash's vibrant orange color) as well as vitamin A, fiber, folate, and vitamin C. Incorporating as much Winter squash as you like this season is a great way to eat nutritiously, especially if you're watching your weight. Need ideas on what to make? Read on for three delicious and light Winter squash recipes.
Roasted Shrimp and Spaghetti Squash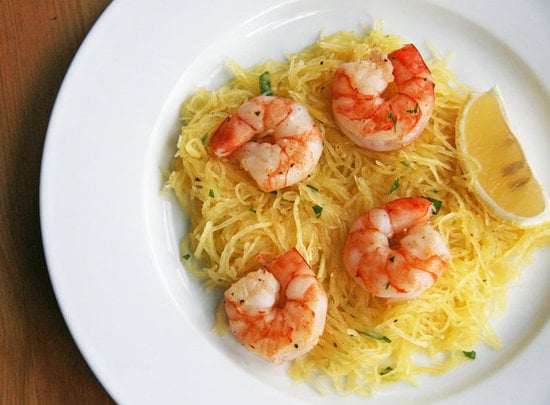 This low-calorie roasted shrimp and spaghetti squash recipe is perfect for those days you're craving pasta. Simply dressed in lemon, olive oil, and salt and pepper, a plateful of this clocks in at only 170 calories.
Butternut Squash Mac and Cheese
Butternut squash lends an extracreamy texture to this lightened-up mac and cheese. Just one bowlful of this healthier take on a classic is all you need on a cold, blustery night.
Get one more filling squash recipe after the break!
Quinoa-Stuffed Acorn Squash
Starving after work? This ultrafilling quinoa-stuffed acorn squash recipe is packed with lots of healthy protein and fiber. Melt some cheddar cheese on top to make this weeknight-perfect dish a little more special.