You can harness the power of the GPS on your iPhone 3G/3GS to map your run while you're on the go with Runmeter. This app keeps all your data on your phone — no need to log onto a website or sync with another gadget. Runmeter tracks your distance, speed, time, elevation, and many other stats, and gives you audio updates of these stats while you're running. The app is designed to work with your iTunes playing, and you receive audio updates as often as you choose — I like to hear them every five minutes myself. If you don't run with music, no worries; Runmeter gives you audio updates through the speaker on your iPhone.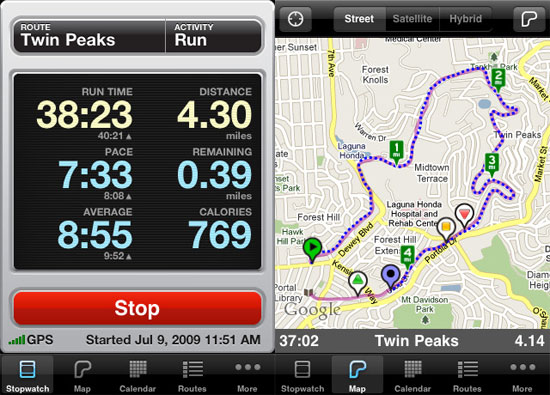 This little app functions as a motivational tool, too. Using Runmeter, you can compete against yourself — the app gives you feedback while you're running and compares it to previous data. This is great for tracking progress and helping you kick your speed into a higher gear. Another feature I like is that you can easily share your Google Map links of your runs by sending them to friends or to your Twitter account.
The only piece of information this app is missing is your heart rate, so you still need to wear your monitor, but it's nice not to worry about a footpod or other GPS device. I also found that when running on my lunch breaks in downtown San Francisco, tall buildings interfere with the GPS on my iPhone, making it difficult for the app to do its thing. Out in the open, though, Runmeter runs just fine.
You can purchase the app at iTunes for $4.99 — significantly cheaper than a new GPS watch.