Healthy BBQ: Grilled Veggies
Keep Your BBQ Light With Veggies on the Grill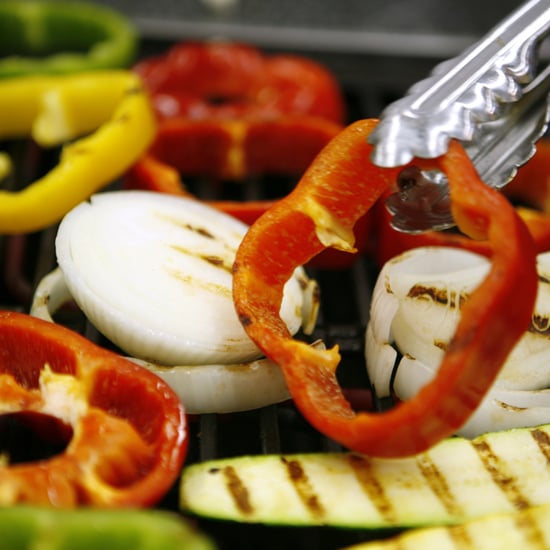 Summer barbecues aren't just about hot dogs and hamburgers! Once you start grilling veggies regularly, the meal options and combinations are endless. If you're not sure how to keep veggies healthy and delicious on the grill, here are some helpful tips to help you out all Summer long.
Have the right tools: First things first, order a stainless-steel grill wok topper ($20). This contraption prevents chopped veggies from falling through the grate onto the coals or gas. In addition to your wok topper, be sure to have a set of tongs ready to go next to the grill. This way you can flip your veggies and get a nice char easily.
Chop ahead: Don't try to chop up your veggies outside! Prep your veggies in the kitchen before you head out to the grill. There's no need to stick to just one variety — offer a nice mix. Cut slightly larger pieces than you would when you roast or bake them, since the grilling process will cause them to shrink.
Brush and season: Beyond the flavor factor, brushing your veggies with olive oil prevents them from sticking to your grill. Once you've got that covered, sprinkle with rosemary, minced garlic, salt, and pepper for a little extra flavor. Feel free to experiment with different sauces, herbs, and spices. Adding freshly grated ginger and lemon juice can be delicious, and other days hot sauce can offer that spicy heat you're craving. Don't consider sugary BBQ sauces or over-the-top marinades; let the natural flavors of your veggies speak for themselves.
Keep an eye out: Shake, stir, and flip your veggies quite often. It's important to watch them closely since they don't take very long to cook! If you step away for too long, you could be left with a texture that's unpleasant. Once they're cooked just right, pour all your veggies onto a plate and serve hot. They're delicious to eat plain with the rest of your BBQ food, or top off your favorite burger or hot dogs with extra veggie power.