Healthy Blender Recipes
4 Blender Recipes That Can Help You Drop Pounds
There are plenty of ways your kitchen can help you lose weight, but one appliance in particular is key — a blender. It can help you whip up a variety of low-calorie recipes that will satisfy your appetite, without adding inches to your waist. With a quick whirl of the blades, you can easily whip up these four tasty meals and snacks.
Breakfast: Banana, Berry, Peanut Butter, and Broccoli Smoothie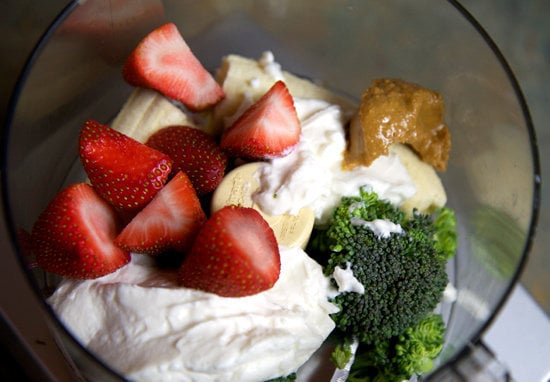 Having breakfast within 30 minutes of waking up is crucial when it comes to losing weight since it jump-starts the body's metabolism. Choose a meal that's high in protein to sustain energy levels, and also packed with fiber to keep you feeling full. This smoothie of banana, strawberry, broccoli, Greek yogurt, and peanut butter is a creamy breakfast that's under 350 calories.
Morning Snack: Edamame and Pear Crostinis

Need a little something to tide you over until lunch? Skip sugary baked goods and try this sweet and crunchy bite instead. Made with high-protein edamame, and bursting with vibrant flavor from fresh mint and pears, one crostini is only 62 calories.
Keep reading for more low-calorie blender recipes.
Afternoon Snack or Appetizer: Spicy Black Bean Hummus

If you're craving something salty and crunchy, don't reach for a bag of chips. Fill up on fiber with this twist on the classic — spicy black bean hummus. Black beans contain slightly more fiber than garbanzo beans, and this spread also offers iron, potassium, magnesium, and vitamin B1.
Lunch or Dinner: Butternut Squash Lentil Soup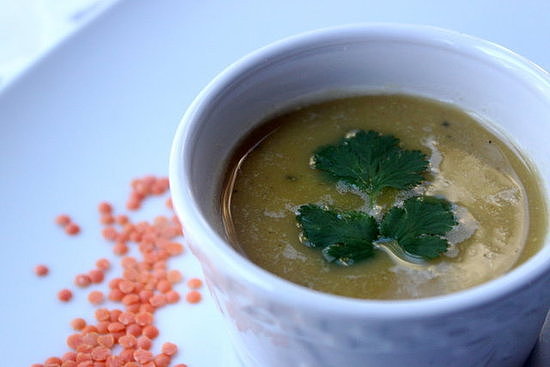 The last big meal of the day can easily pack on 800 or more calories, so if you're looking for a meal that'll satisfy your monstrous appetite, whip up a bowl of soup. This one is made with butternut squash and lentils, and is only 156 calories per bowl, so you can enjoy it with a chunk of whole grain bread and not feel guilty.
Source: Jenny Sugar and Jaime Young