Healthy Breakfast: Mini Veggie Frittata
I wholeheartedly believe that breakfast is the most important meal of the day. I love an egg or two in the morning, but am often pressed for time. These mini frittatas save the day, literally. When my day begins with protein, I seem to be much happier. This recipe is super simple and the end product is tasty.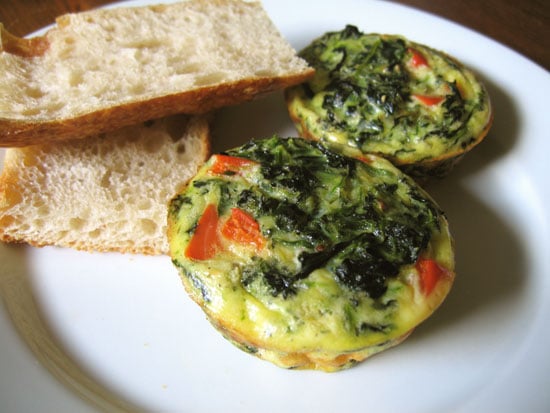 Mini Spinach Frittatas
Inspired by South Beach Diet and Self Magazine
Ingredients
5 eggs
2 tbs low fat milk
3/4 cup diced red pepper
1 package of chopped frozen spinach
5 ounces cup soft goat cheese (chevre)
salt and pepper to taste
Directions
Microwave spinach on high for two minutes. Wring with hands to drain excess liquid.
Beat eggs and milk in a small bowl.
Mix in goat cheese.
Add veggies and salt and pepper to taste.
Pour muffin tins coated with canola cooking spray.
Bake at 350 degrees for 12 to 15 minutes, or until firm and just golden on top.
Once cooled, you can store the frittatas in the fridge. To warm you can microwave for 20 to 40 seconds to reheat, or pop them in a toaster oven for about a minute.
Makes 9 mini frittatas
Information
Category

Breakfast/Brunch
This is the basic recipe, but feel free to change the veggies and cheese.