Healthy Brussels Sprouts Recipe
Seasonal Eats: Roasted Brussels Sprouts With Walnuts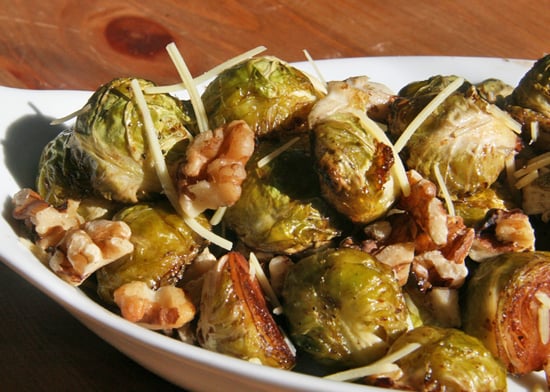 Brussels sprouts had a bad rap in the past, but there are so many reasons these little green guys deserve a home on your dinner table. Brussels sprouts are not only packed with fiber, but they also offer a truly delicious taste — with very little hassle in the kitchen.
The easiest method of cooking is to simply roast them. In the past, you may have cooked up your sprouts with bacon or pancetta, but adding walnuts instead offers a similar depth of flavor while providing a boost of healthy fat not found in those meaty options. Keep reading for the crowd-pleasing healthy recipe.
Roasted Brussels Sprouts With Walnuts
Adapted from Recipezaar
Ingredients
1 stalk of brussels sprouts (or about two pounds of sprouts)
2 tablespoons olive oil
2 tablespoons balsamic vinegar
1/2 cup chopped walnuts
1/4 cup finely grated Parmesean cheese
Kosher salt and fresh pepper, to taste
Directions
Preheat oven to 375ºF. Remove brussels sprouts off the stem, wash well, and rip off outside leaves. Cut each sprout in half.
Place brussels sprouts in roasting pan, and coat evenly with olive oil and vinegar. Add salt and pepper to taste.
Roast for 20 minutes, stirring brussels sprouts occasionally.
Once 20 minutes has passed, add the chopped walnuts to the roasting pan, and cook for an additional five minutes.
Remove from the oven, and sprinkle with Parmesan cheese. Serve warm.
Information
Category

Side Dishes

Cuisine

North American