Healthy Buffet Tips
Holiday Survival Guide: Bracing Yourself at a Buffet
If you love to eat, buffets are the best and the worst. Having all those options might make you feel like a queen, but that feeling ends after returning home, uncomfortably full. If you find yourself beat by buffets time and time again, these tips will help you approach them in a healthy way.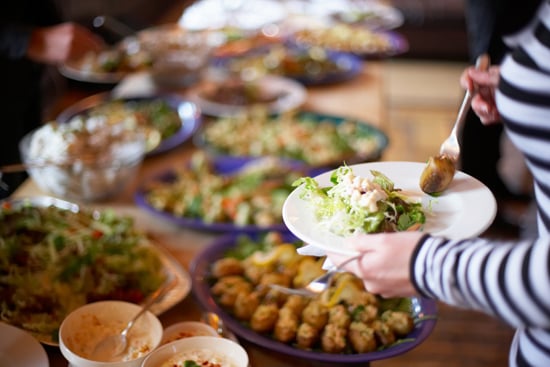 Scope the scene: Before you even think about grabbing a plate, take a walk around the table. Check out all the offerings so you can plan accordingly. This way, you won't have any buyer's remorse at your table when you see what everyone else is chowing down on.
Pick up a smaller plate: Something as simple as a plate can help or hinder a healthy eating plan. Instead of looking for the biggest plate at the event, choose a salad or a dessert plate. Studies have proven that using a smaller plate helps with weight loss.
Take appropriate courses: There's no need to pile your plate sky high from the get-go. Start off with something lighter at the beginning, like soup or salad, and move to the appropriate course from there. But don't be confused! Taking time with courses is not permission to have a decadent six-course dinner. Healthy portion control is always important.
Break for it: A lengthy break in the middle of your meal will give your body a little room to digest. When half the food on your plate is gone, put down your fork, breathe deep, and take stock of how you're feeling. During this allotted break time, take note of what how much you've eaten, your hunger level, and your emotional state. Remember that it's not a race.