Healthy Buns For BBQs
Healthy BBQ: Not So Healthy Whole Wheat Buns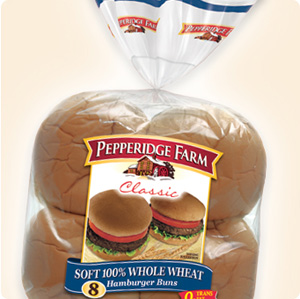 Memorial Day kicks off the unofficial start of Summer, and for many of you that means a weekend of BBQs. Most people I know are all about the grillables and the sides: special recipes for homemade burgers, perfectly marinated chicken and ribs, veggie kabobs, and creamy potato salad. But when they hit the grocery store to pick up all the essentials, they don't pay much attention to their buns, and there's something you should know. The whole wheat buns you're buying may not be so healthy. Gasp! They might say "made with whole wheat," or they look brown, but that doesn't mean they don't contain enriched flour and corn syrup of the high fructose variety. Check out the surprising ingredients in these popular buns and rolls:
Don't fret. There are many healthy options out there to house your burgers and hot dogs, so read more.
Arnold Select 100% Whole Wheat Sandwich Thins: These "rolls" are much thinner than normal bulky buns and only 100 calories each. They're made with whole wheat flour and no high fructose corn syrup.
Barowsky's Organic Hot Dog Buns: Made with organic whole wheat flour, each bun contains 150 calories, one gram of fiber, and seven grams of protein.
Pepperidge Farm 100% Natural 100% whole wheat bread: Who said you have to have a real bun? Grill up some sliced bread instead. Each one of these slices contains 100 calories, three grams of fiber, and four grams of protein.
Go open-face with half a bun, or no bun at all and save 50 calories or more.
Go South Beach like In-N-Out Burger: Instead of worrying about which buns are healthy, wrap your hamburger in leaves of fresh, crispy lettuce. It's much lower in calories and carbs, so you can save room for your gram's famous macaroni salad.