Healthy Camping Snacks
Camping Snacks So Good You'll Have to Fight the Bears Off
If you're gearing up for a Labor Day camping trip, then take some time out from figuring out where you stashed your sleeping bags and make these healthy snacks. Your nature-loving companions will love the fact that they'll have something healthy and delicious to snack on between meals around the campfire.
Low-Calorie Granola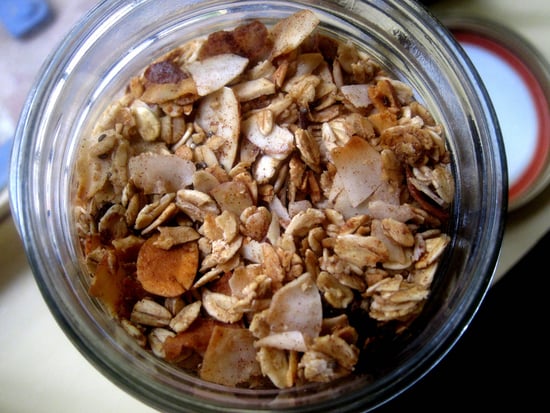 Granola and nature go hand in hand, but ditch the fat and the preservatives by making your own batch of granola. This chai-spiced granola is big on flavor but not calories or fat.
Egg Muffins
These egg muffins make perfect grab-and-go meals if you're gearing up for a hike. Pack these in an airtight container and keep them in your cooler until you're ready to eat.
Dried Mango
Making your own dried mango saves you money and calories, so make a batch while you pack up your camping supplies for a simple treat later on. If mango's not your thing, then how about these homemade strawberry fruit leathers?
Get more healthy camping snacks after the break.
Honey-Roasted Chickpeas
Bring along a jar full of these honey-roasted chickpeas for when you're in the mood for a sweet snack. While these are best when served hot, they store well for a few days in an airtight container.
DIY

Energy Squares
Whether you're setting out from camp on a hike or are enjoying the nearby swimming hole, you need energy for an action-packed day in nature. Bake a pan of these DIY energy bars, then cut them up into two-inch squares for sustainable energy when you need it!