Healthy Carrot Rosemary Potato Latke Recipe
Healthier Holiday Recipe: Crispy Carrot Rosemary Potato Latkes
Hanukkah just isn't the same without the smell of latkes cooking on the stove. Of course my Gramma's will always be the best, but since they're practically deep fried in a layer of oil, her potato pancakes aren't exactly good for you. Here's a healthy twist on my traditional family recipe with shredded carrots and fresh rosemary added, and since they're sautéed in a small amount of oil, you can feel good about eating them up. These are served with organic apricot applesauce that complements the sweetness of the carrots beautifully.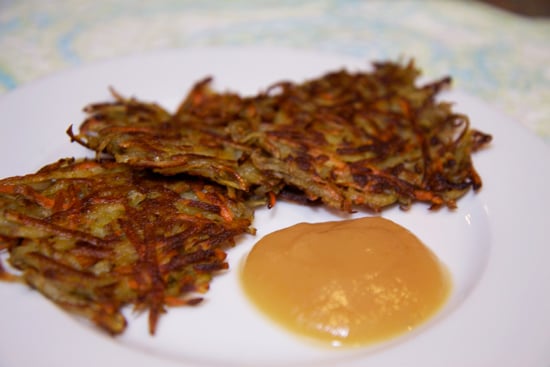 Continue reading to see the recipe and find out how many calories are in one latke.
Crispy Carrot Rosemary Potato Latkes
original recipe
Ingredients
3 large russet potatoes
2 large carrots
3 eggs
3 teaspoons whole wheat flour
4 sprigs of fresh rosemary, minced
1/4 teaspoon salt
1/4 teaspoon pepper
Olive or canola oil
Directions
Scrub the potatoes clean and cut or peel off any bad parts. Leave the rest of the peel intact. Peel the carrots and cut off the ends. Grate the potatoes and carrots by hand, or save time by using a food processor instead.

Place the shredded veggies in a large bowl and use your hands to press the mixture flat against the bowl and pour out the extra liquid.
Place a pan on the stove on medium heat. Pour two tablespoons of oil in the pan.
While the pan is heating up, in a separate bowl add the egg, flour, rosemary, salt, and pepper. Whisk gently and then add to the grated veggies, mixing well.

Scoop out about two tablespoons of the mixture and drop onto the pan. Use the back of the spoon to flatten the latke so it's about a quarter inch thick. Space the latkes about an inch or two part. Allow them to cook for six to 10 minutes, or until the bottom is golden brown. Flip and cook another six to 10 minutes on the other side.

Place a paper towel on a plate, and put the cooked latkes on top so the extra oil can be absorbed. Serve warm with applesauce or chutney.

Makes about 36 latkes.
Information
Category

Vegetables, Appetizers

Cuisine

Jewish
Take a look at the nutritional info for one latke below: