Healthy Cheese Tips
Why Is Cheese Getting a Bad Rap?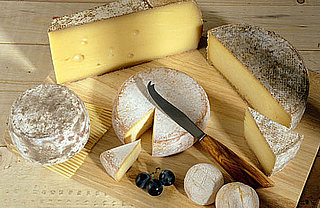 Last week, The New York Times published a piece on a cheese push in menu items from popular restaurants like Domino's. Apparently, cheese sales in the US have slowed, thanks in part to health-conscious Americans choosing low- and no-fat cheese over whole milk and full-fat versions. It's certainly not a move in the wrong direction; full-fat cheese is the leading source of saturated fat in the country. But in a marketing effort, an organization called Dairy Management launched a campaign to get Americans to eat more cheese, and not everyone is happy with it.
While cheese isn't necessarily the healthiest option (one ounce can contain as much saturated fat as a glass of whole milk), it's not the enemy. While I would avoid, say, a Taco Bell quesadilla with three kinds of cheeses plus cream sauce, a healthy serving of cheese can be just that — healthy! Fellow cheese-lovers, check out tips for healthy consumption of the delicious dairy product after the break.
If you have a healthy cholesterol level, it's ok to consume 300 mg. of cholesterol each day. Depending on the type of cheese, a one-ounce serving can have as little as 15 mg. (part-skim mozzarella) or as much as 125 mg. (full-fat ricotta).
Don't forget, cheese is a source of calcium, too. One and a half ounces of Romano cheese contains 452 mg. of calcium, Swiss contains 336, and even pasteurized American cheese contains 323 mg. per serving. Adults should aim for 1,000 mg. of calcium daily.
A cheese is considered low-fat if contains 5 g. or less of fat per serving, so to enjoy all of the benefits of cheese guilt-free, substitute reduced-fat cheeses when you can.
If you're worried about watching your fat intake but don't want to give up cheese, choose a hard, flavorful variety like asiago or Parmesan. A little bit will go a long way when grated onto a salad, fresh veggies, or other healthy food!
Remember: everything in moderation! I say there is too much delicious, flavorful cheese out there to avoid it all together, just keep your intake in check. My personal rule of thumb has been to only indulge if the cheese really enhances the dish — say, shaved Parmesan on a simple salad over grated Parmesan on top of already-flavorful pasta.