Healthy Chia Seed Recipes
4 Ways to Sneak Chia Seeds Into Your Diet All Day
Chia seeds are a superfood for more than a few good reasons: the tiny seeds pack a punch when it comes to antioxidants, protein, fiber, and omega-3 fatty acids. If you've tired of adding chia to your drinks, know that you don't have to save your chia seeds for your morning smoothie. Here are four delicious ways to sneak these bits of nutritious goodness into breakfast, lunch, dinner, and dessert!
Breakfast: Apple Crumble Breakfast Pudding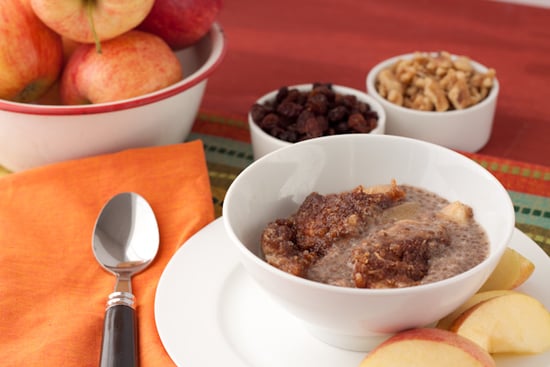 Move over, oatmeal; this warming recipe for crockpot apple crumble breakfast pudding is a paleo-diet-friendly way to nix the grains in your diet without missing a beat.
Lunch: Lemon Chia Seed Dressing
Your lunch salad should include toppings that up your diet's nutrients while also ensuring that you stay full well into the afternoon. This lemon chia seed dressing does just that; the added protein, healthy fats, and fiber from the chia seeds will help keep your belly full.
Read on for ideas for adding chia seeds to dinner and dessert!
Dinner: Cheese and Swiss Chard Lasagna
This hearty recipe for four-cheese and Swiss chard lasagna warms up a chilly Winter night. Adding chia seeds to the sauce ups its fiber content and thickness.
Dessert: Cherry Chocolate Granola Bites
Have a dessert you can feel good about with these cherry chocolate granola cookie bites. Dark chocolate chunks provide a healthy dose of antioxidants, and chia seeds add fiber and omega-3s to your indulgence.