Meal prepping [1] for the week is easier than ever when you have the right recipes. If you want meals full of protein and good-for-you-vitamins, we're here to help. Chicken [2] is such a solid healthy protein option, and the most reliable protein to include in your weekly meal prep. To be totally honest, cooking the same chicken, broccoli, and rice week after week can get really boring, really fast. We're pretty sure you feel the same, so we're swooping in to save the day. We searched far and wide to branch out from the basics and pulled together the best meal-prep-ready [3] chicken recipes that are as delicious as they are nutritious. You'll find pasta, fajitas, chicken salad, and many more, all with one thing in common: they make at least four servings and can be refrigerated or frozen so they are ready to eat throughout the week. We're ready to dig in. Are you?
— Additional reporting by Lauren Harano
Honey Mustard Chicken and Potatoes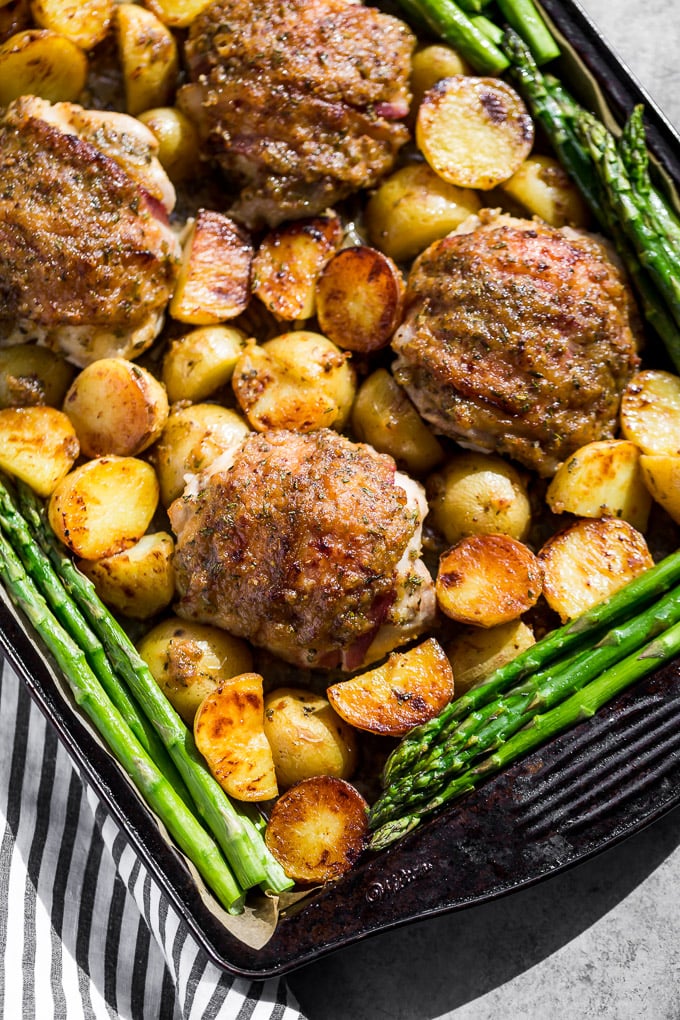 Sheet-pan dinners allow you to cook all of your meal components at once, freeing you up to do other things. After cooking, portion out these bacon-wrapped, honey-mustard-smothered chicken thighs into individual containers with a scoop of potatoes and asparagus for four healthy meals.
Get the recipe: honey mustard chicken and potatoes [5]
Cherry Tarragon Chicken Salad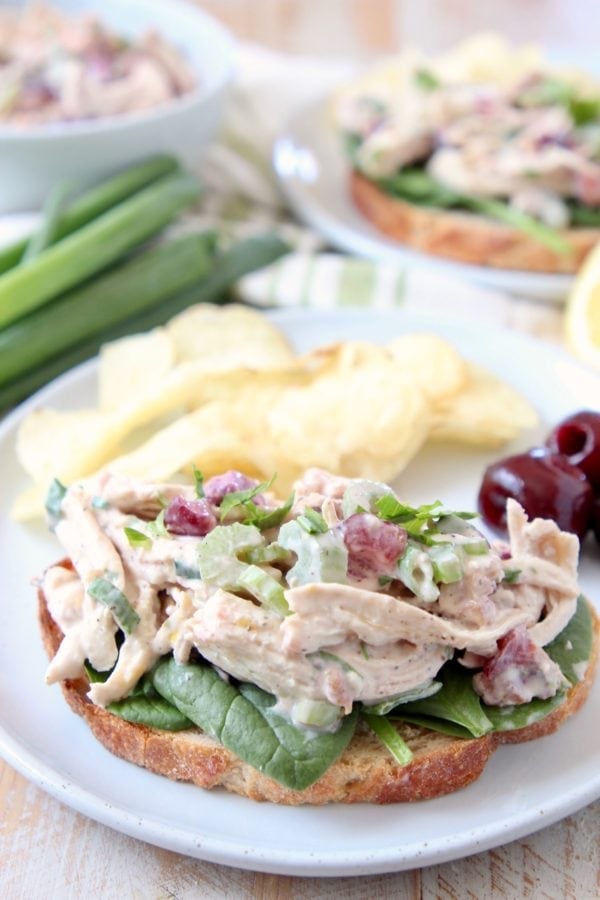 If you get bored with eating the same meals all week long, this chicken salad may be just the recipe you need. Make a batch at the beginning of the week, and you can serve it over greens, on a sandwich, or in a healthy wrap.
Get the recipe: cherry tarragon chicken salad [6]
Barbecue Chicken Lettuce Wraps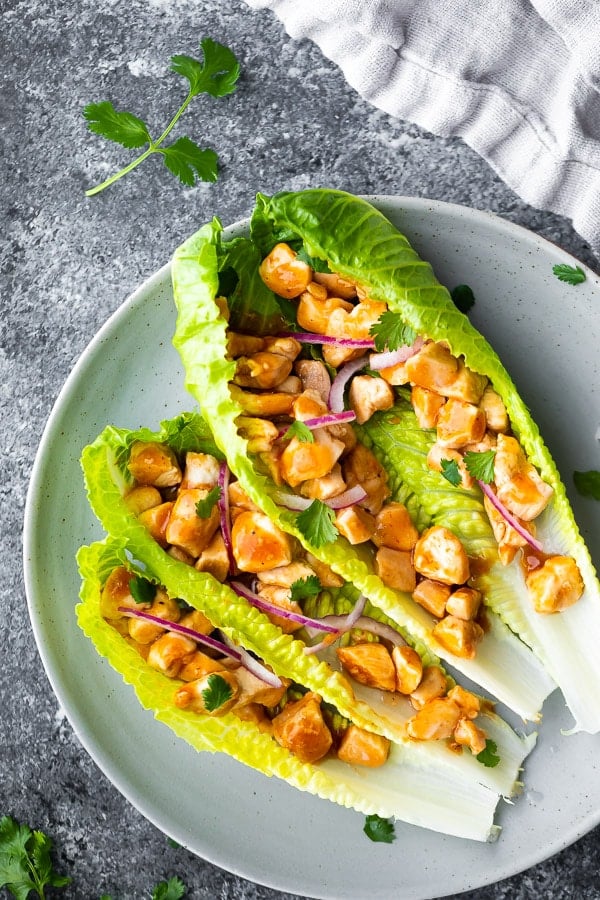 If you have 15 minutes, you have enough time to prep these low-carb lettuce wraps. The recipe lists ingredients and instructions for one serving, so multiply as needed to get the number of meals you need for the week. Don't forget to store the chicken mixture separate from the romaine leaves until it's time to eat.
Get the recipe: barbecue chicken lettuce wraps [7]
Greek Lemon Chicken and Orzo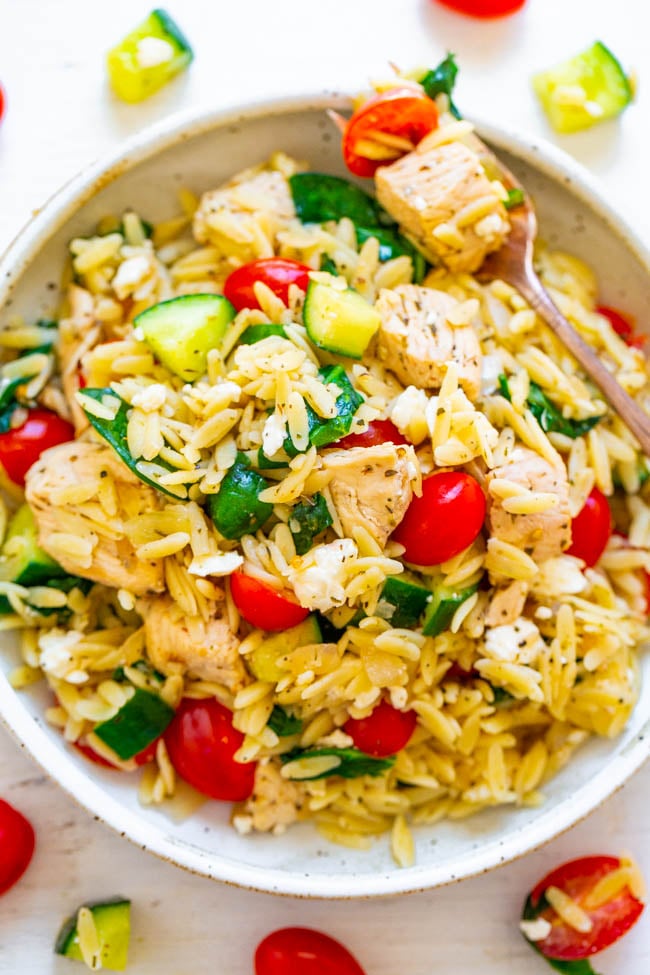 Lemon-y chicken, orzo, and heaps of fresh veggies make up this quick (done in under 30 minutes!) dinner. The best part: it makes eight servings and keeps in the fridge for up to five days.
Get the recipe: Greek lemon chicken and orzo [8]
Chicken Cobb Salad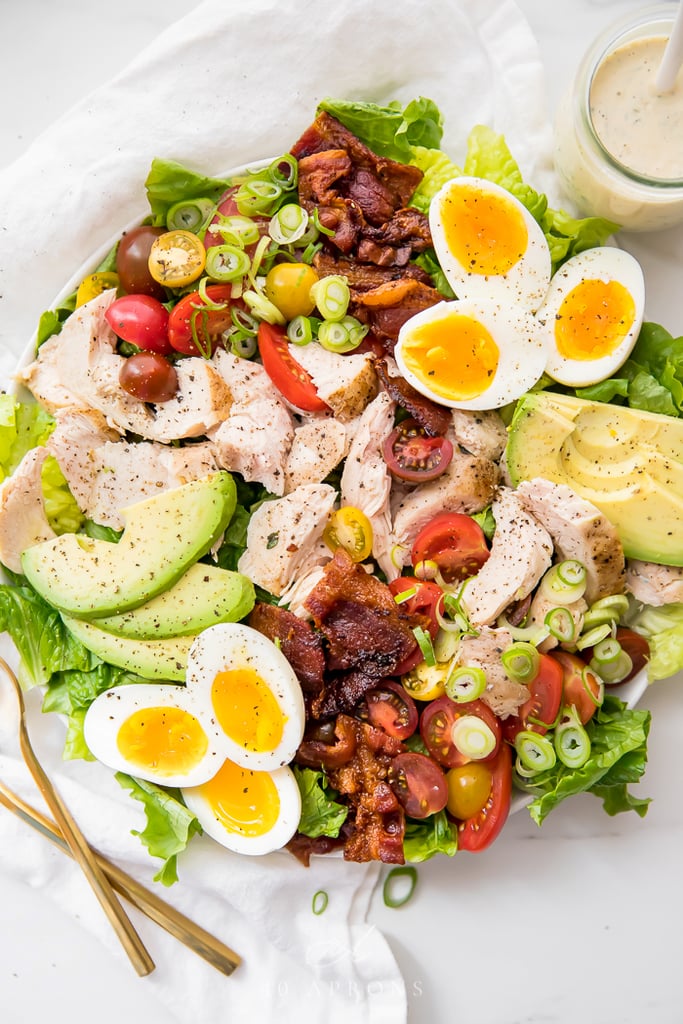 This dairy-free salad (yes, even the ranch dressing) has all the tasty toppings you would expect from a Cobb salad. To make sure you aren't eating sad lettuce by the end of the week, assemble all of the ingredients except for the ranch dressing and avocado during your meal prep and add them on top just before serving.
Get the recipe: chicken Cobb salad [9]
Chicken and Green Beans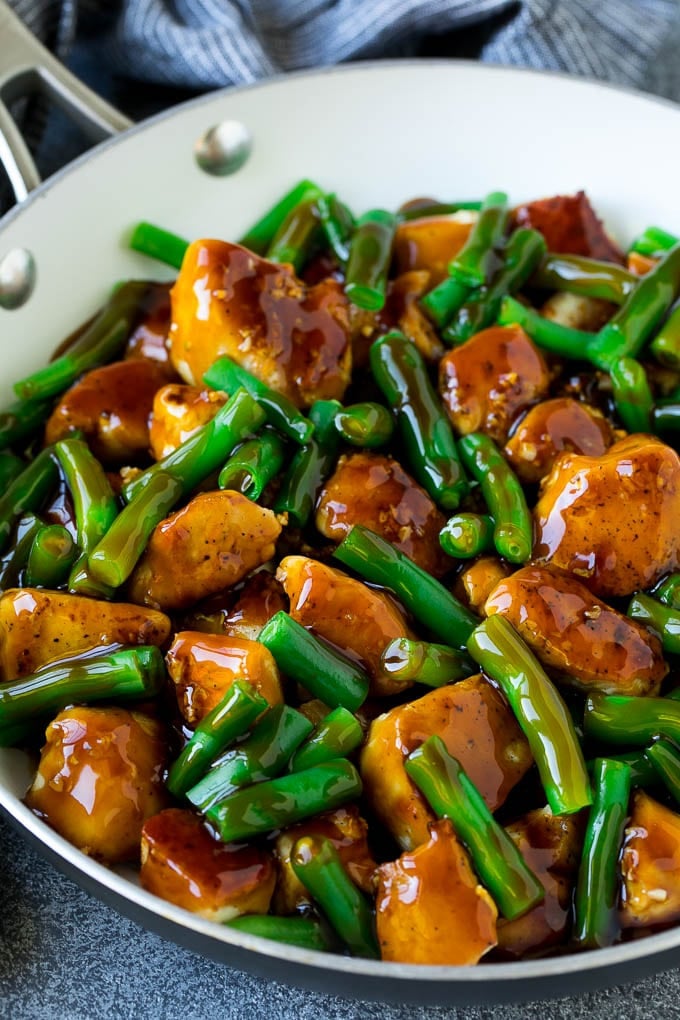 If you love stir-fry, try this version made with green beans, chicken, and a zesty honey garlic sauce. If you can't get enough veggies, you can add mushrooms, peppers, onions, broccoli, or snow peas to the mix.
Get the recipe: chicken and green beans [10]
Curried Tahini Cashew Chicken and Carrot Salad
This curried chicken salad uses carrot noodles, crunchy cashews, and a nutty tahini dressing to totally elevate your meal prep. Store the chicken salad separate from the greens until you are ready to chow down.
Get the recipe: curried tahini cashew chicken and carrot salad [11]
Sheet-Pan Fajitas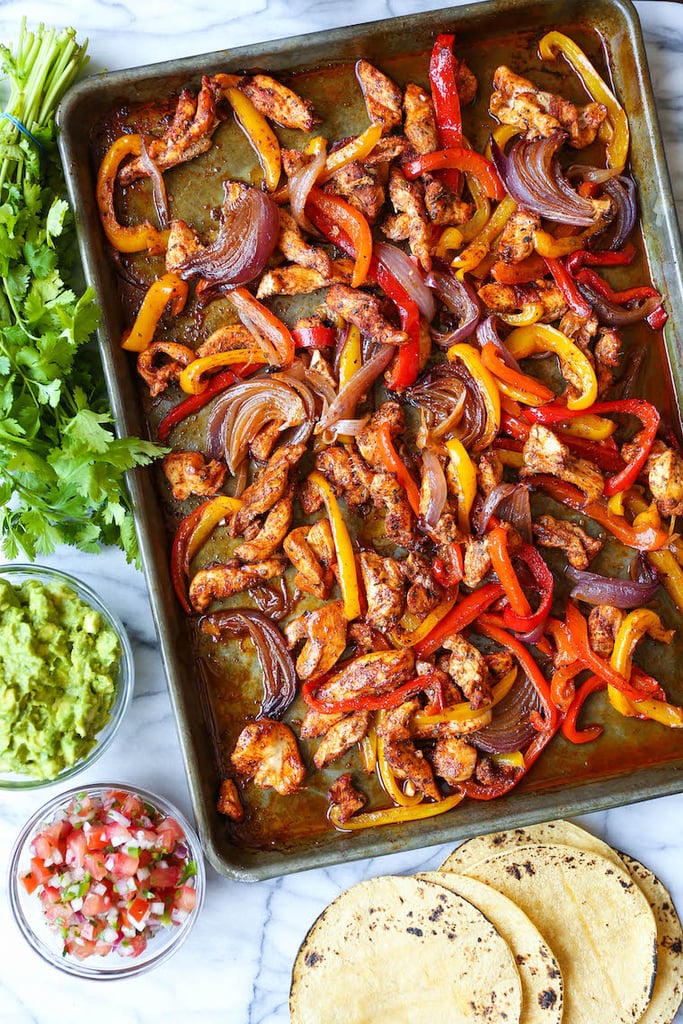 Fajitas that are easy to make and require minimal cleanup? Sounds like our kind of meal. We recommend prepping the chicken and veggies early in the week and then alternate serving them over rice or in corn tortillas to keep things interesting.
Get the recipe: sheet-pan fajitas [12]
Greek Chicken Bowls
These Greek chicken bowls are anything but boring! With crunchy cucumbers, salty olives, tender chicken, and a tangy tzatziki, you'll come back to this recipe week after week.
Get the recipe: Greek chicken bowls [13]
Tomato Coconut Curry Chicken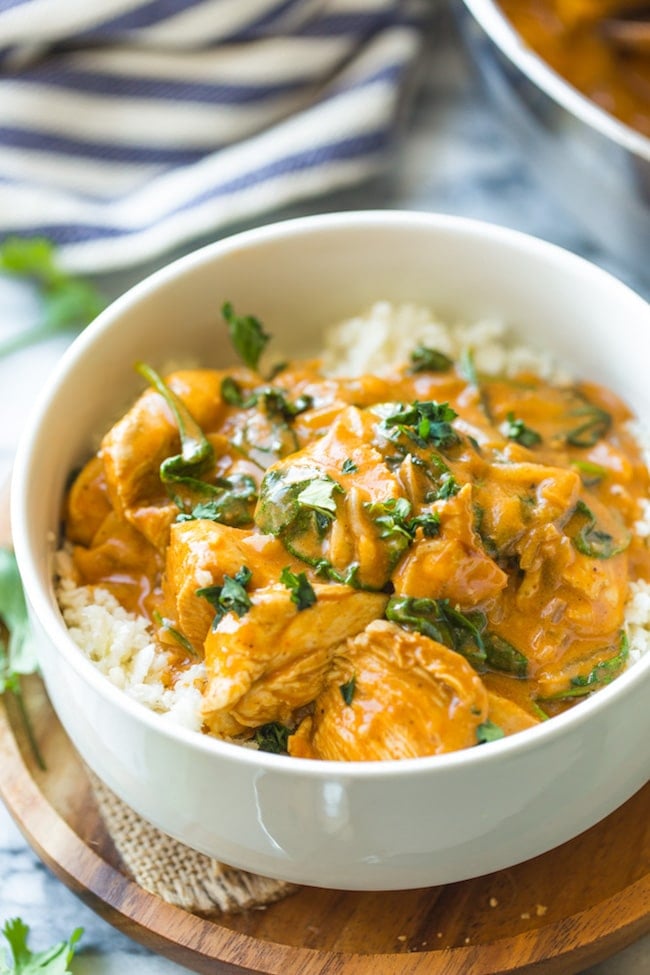 This delicious, spice-infused coconut curry can be served a number of ways to meet your dietary needs. If you are keeping it low-carb or Whole30, serve over cauliflower rice or a bed of greens. If you are just looking for a tasty meal, serve with quinoa or rice.
Get the recipe: tomato coconut curry chicken [14]
Mexican Chicken Skillet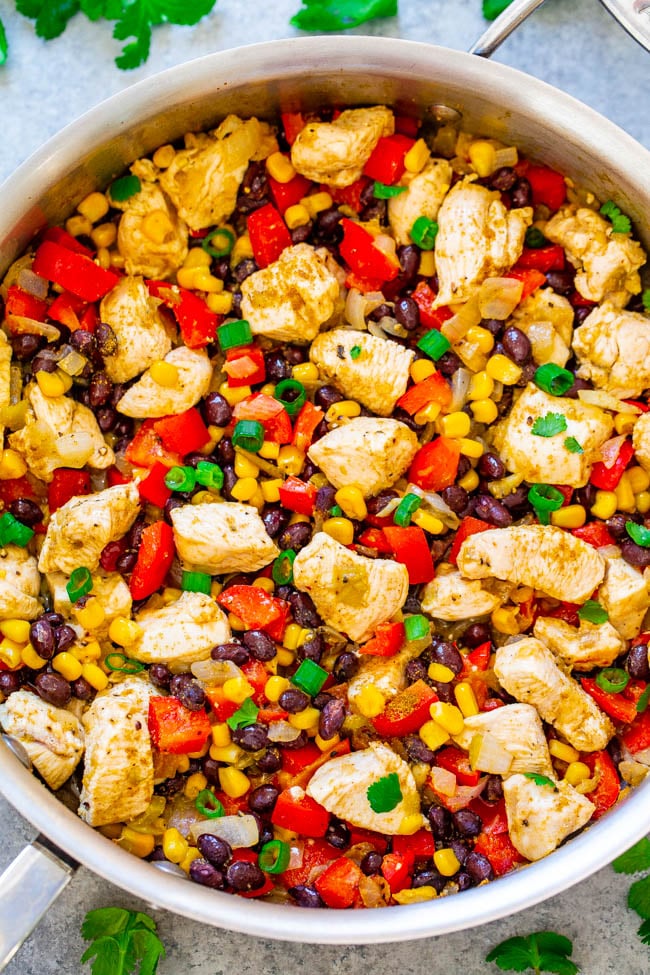 This 20-minute skillet meal lends a Mexican flair to meal prep. It's delicious on its own or over rice — just reserve the fresh cilantro and green onions until you are ready to reheat and serve.
Get the recipe: Mexican chicken skillet [15]
Sesame Chicken Pasta Salad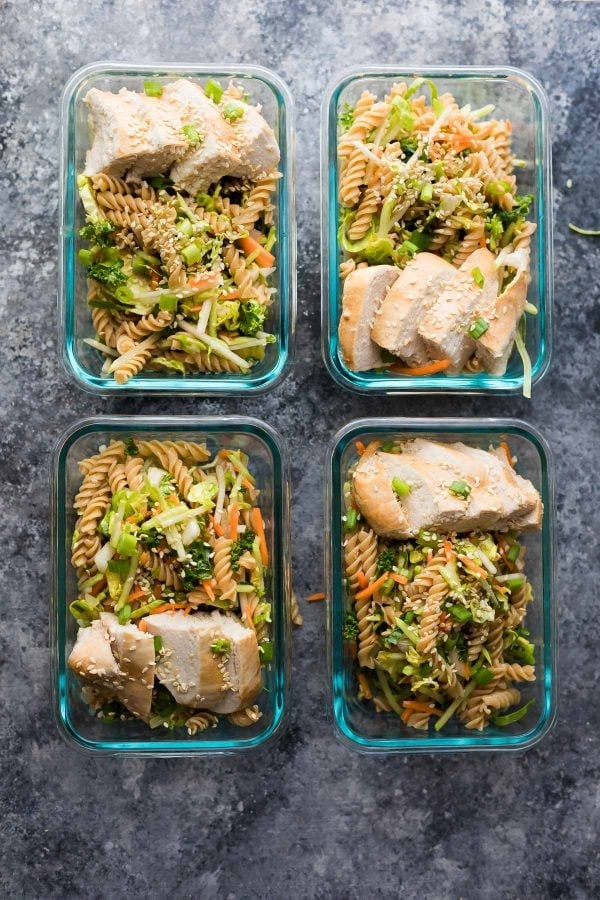 Pasta salad is often overlooked as a meal-prep option, but because it's served cold, it is actually a really solid choice. This Asian-inspired version makes four servings and will keep in the fridge for about four days.
Get the recipe: sesame chicken pasta salad [16]
Curried Chicken Salad With Spicy Mango Chutney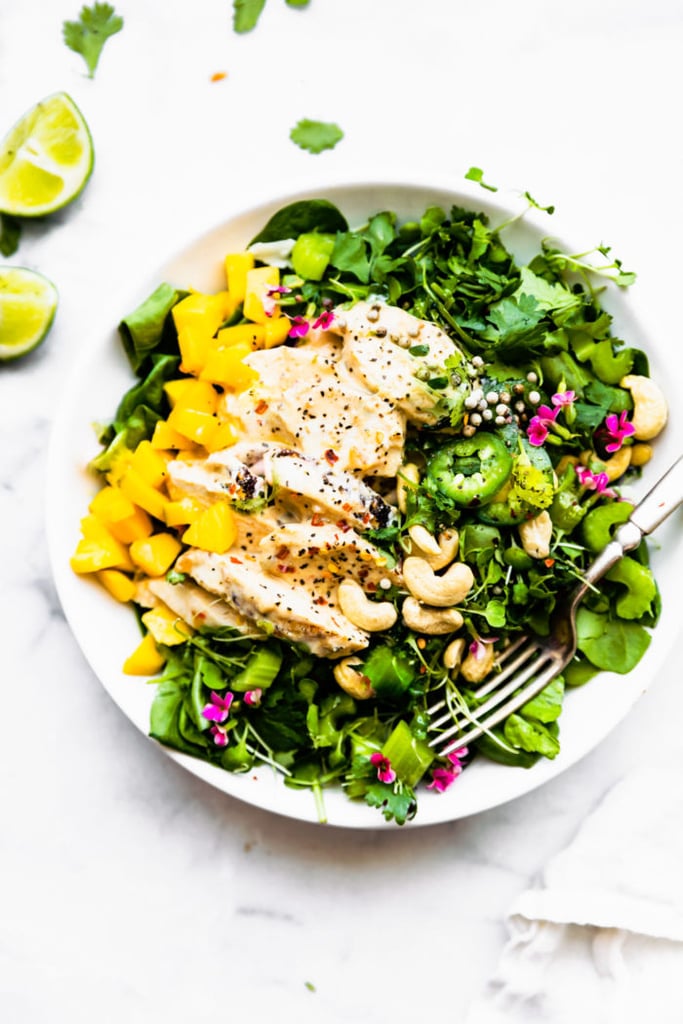 Don't say we didn't warn you about the spice level of this chicken, mango, and jalapeño salad. If you can handle the heat, the whole thing gets topped off with a spicy mango chutney, too. To keep the ingredients crisp and fresh, store the mango and greens separate from the other ingredients until time to serve.
Get the recipe: curried chicken salad with spicy mango chutney [17]
Instant Pot Chicken Tikka Masala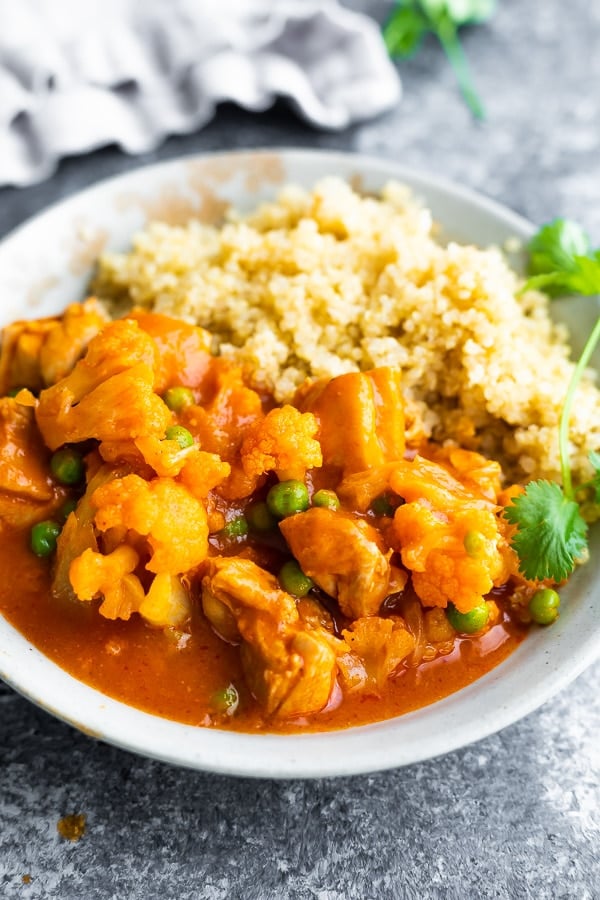 The Instant Pot is a meal-prep must have if you are always short on time. This chicken tikka masala comes together in about 30 minutes and can be refrigerated or frozen until hunger calls.
Get the recipe: Instant Pot chicken tikka masala [18]
Chicken Caprese Pasta Bake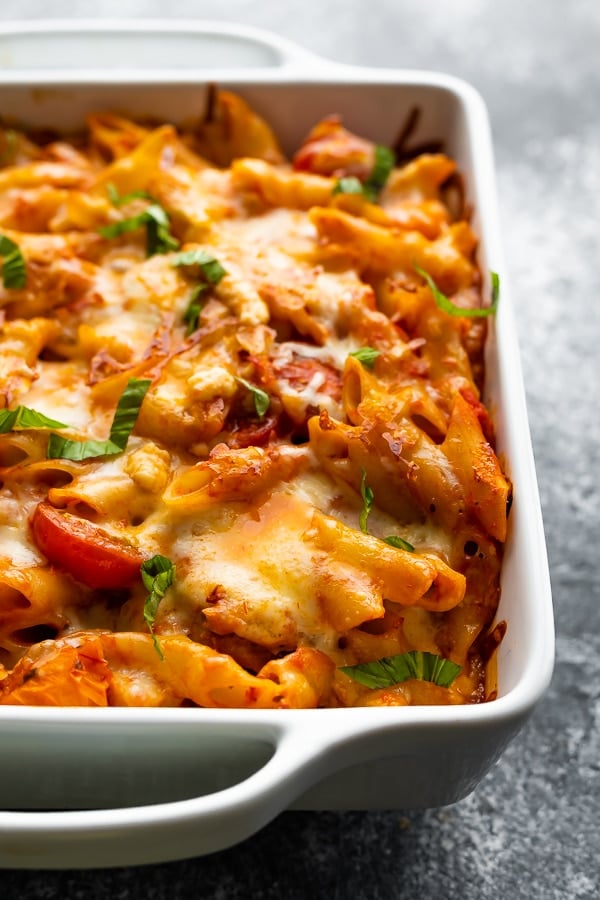 This pasta bake is comfort food at its finest. It can be prepped, baked, and then refrigerated or frozen until you are ready to slice and serve. We suggest making a double batch so you have one for now and one to freeze for later.
Get the recipe: chicken caprese pasta bake [19]