Nothing can doom a diet like the crispy, crunchy craving for chips — until now! Rather than ditch this snack for good, we found healthy takes on our favorite savory and salty recipes. So go ahead: give your veggies a new twist and indulge in the crunchy deliciousness of these 11 fit chips.
— Additional reporting by Aemilia Madden
Whole Wheat Pita Chips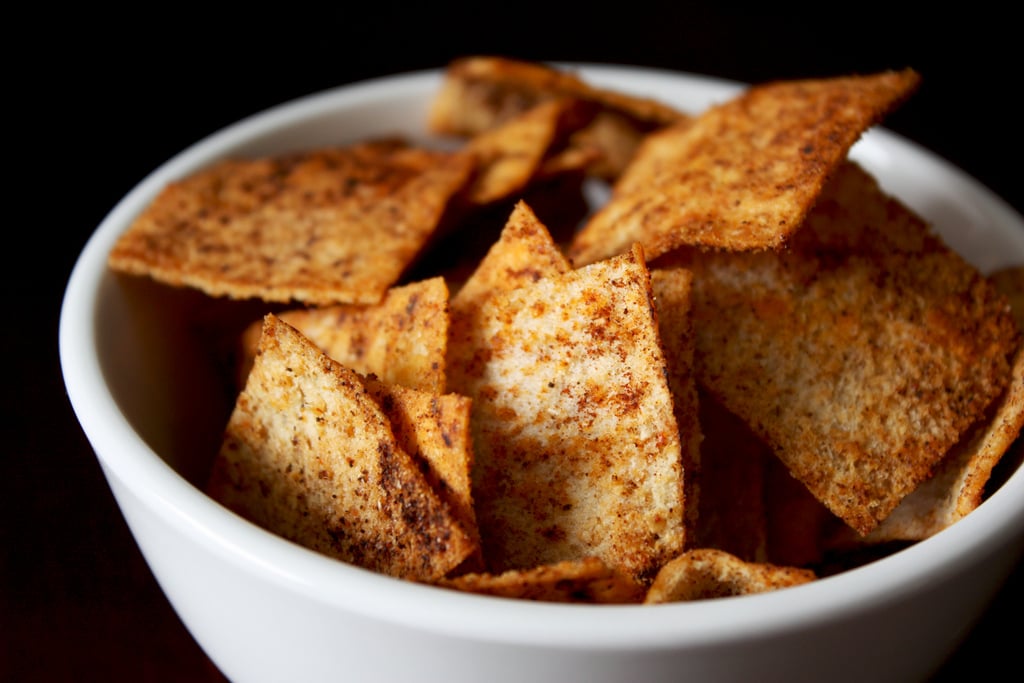 Looks like this popular snack has gotten a healthy makeover. You'll love the sweet and salty combination of these whole wheat pita chips served with sweet potato hummus [1].
Source: Flickr User nooschi [2]
Honey Sweet Potato Chips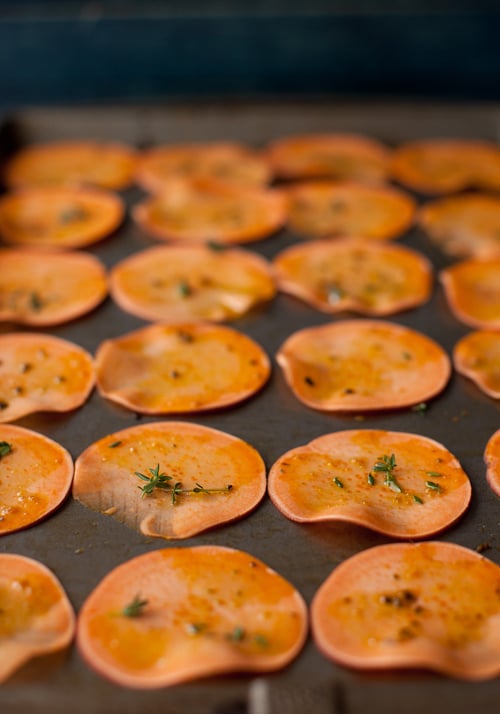 Nothing tastes better than a paper-thin chip smothered in some sort of cheesy goodness. These honey sweet potato chips [3] will give you the crunch without the guilt factor.
Source: Flickr User Yelena Strokin [4]
Kale Chips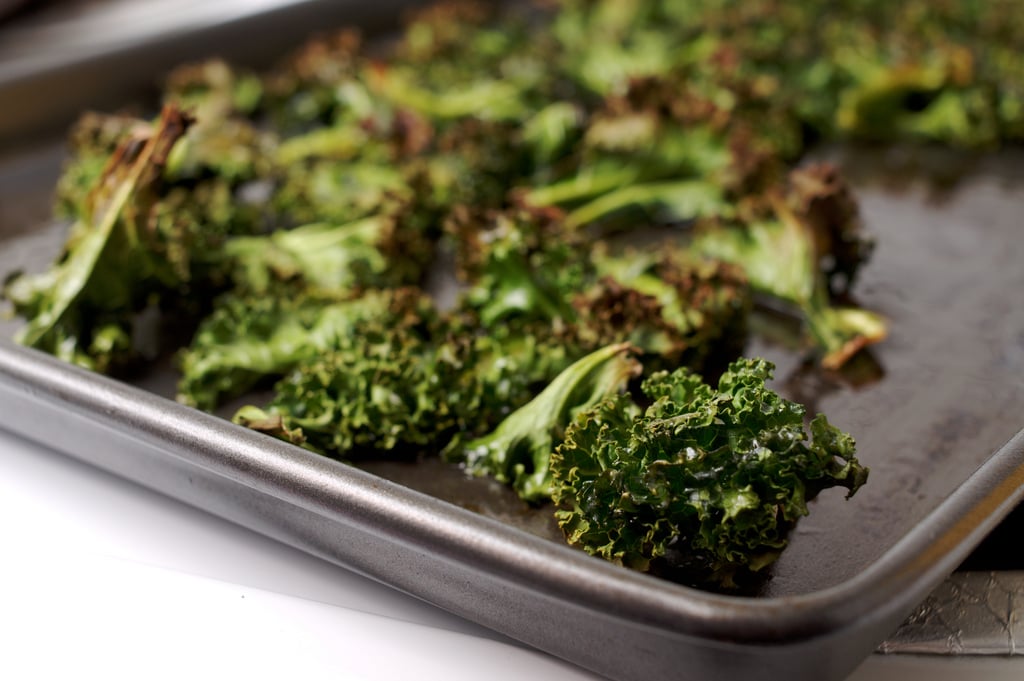 Rather than grabbing a bag of greasy potato chips, bake up a serving of greens using this Kale Chip recipe [5] — three ingredients are all you need!
Source: Flickr User VincciWincci [6]
Taro Chips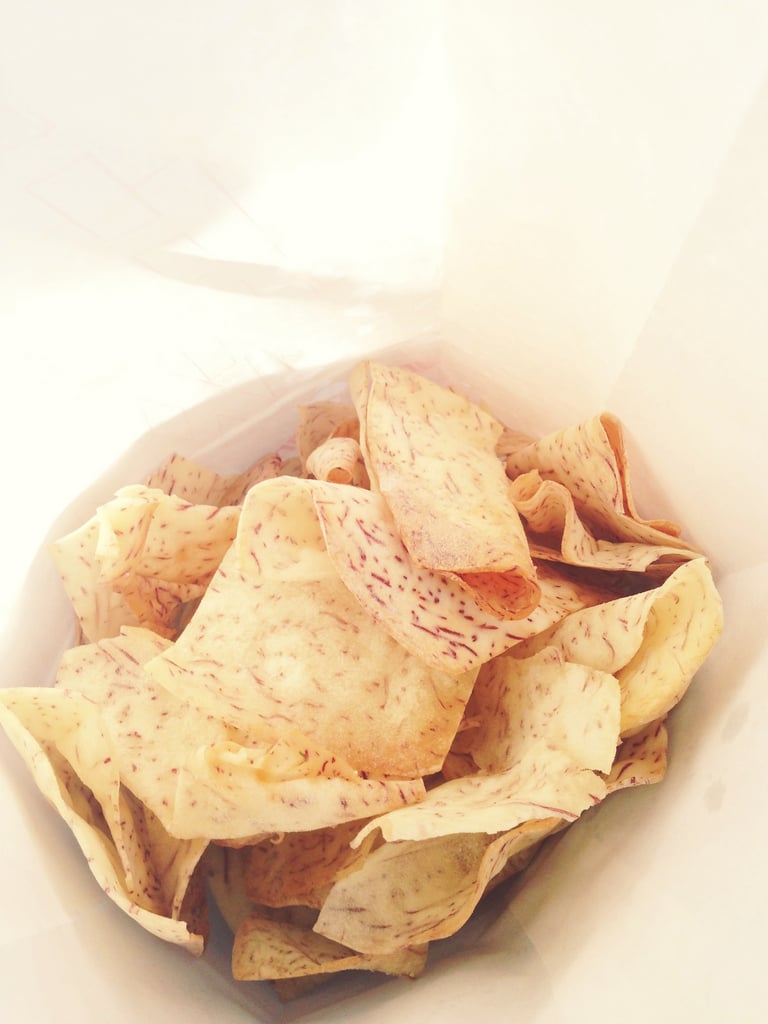 Ditch the Lay's and opt for these baked taro chips [7] instead. They're lightly dusted with salt and Spanish olive oil to give you the taste you crave without all the calories.
Source: Flickr User tinycurrents [8]
Baked Potato Chips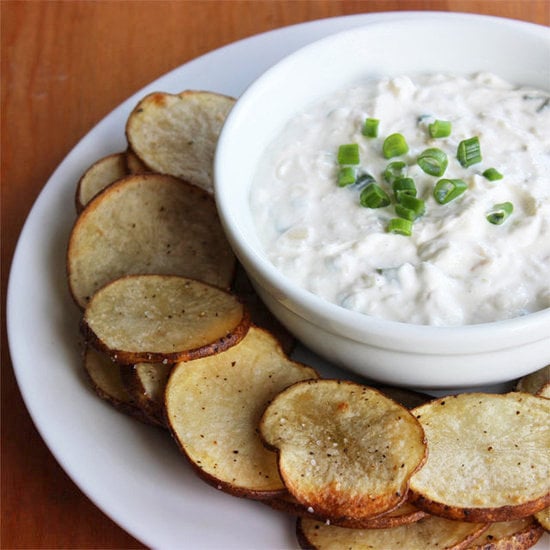 For a healthier take on chips and dip, try this baked potato chips and onion dip recipe [9]. For a fraction of the fat, these cracked-pepper chips are worth the cooking time, and the dip can be made the night before your event.
Photo: Lizzie Fuhr
Sweet Potato Chips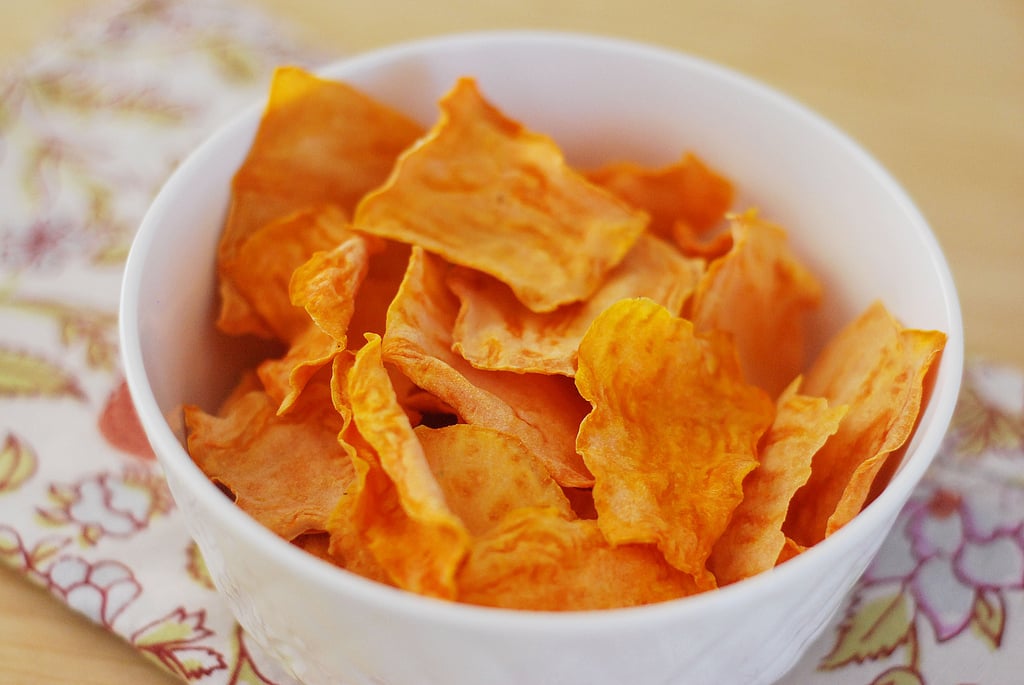 These sweet potato chips [10] have a twist — almond butter! With a hint of nuttiness — they both sweet yet savory.
Source: Flickr User: fakeginger [11]
Golden Beet Chips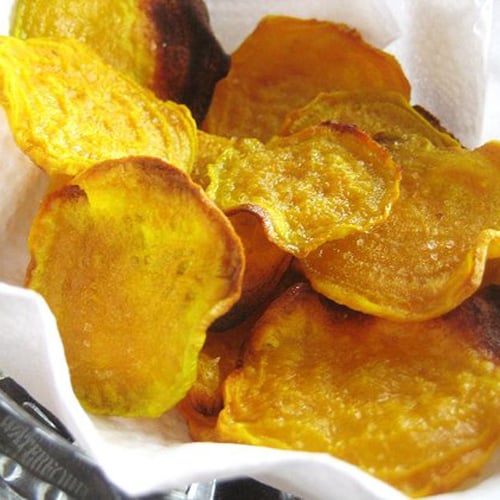 Love the earthiness of beets? If so, you're going to love these vibrant baked golden beet chips [12]. Not only will they liven up your lunch but they taste pretty good too.
Source: My Fare Foodie [13]
Baked Spinach Chips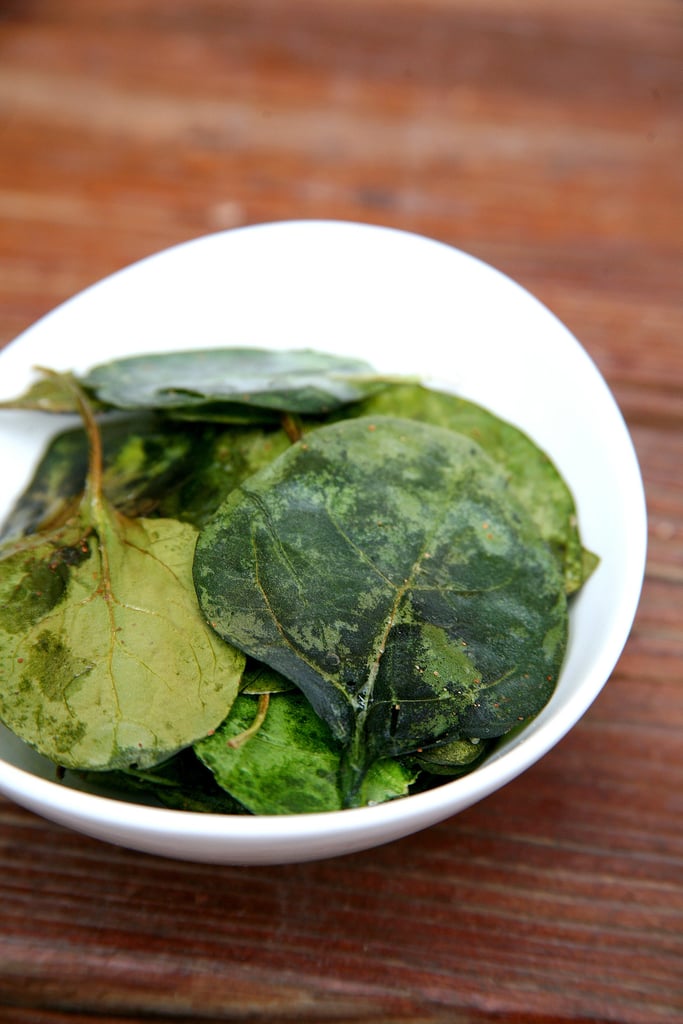 If you consider yourself addicted to crunchy kale chips, shake up your routine and try these spinach chips [14] instead. This light, leafy treat is an easy way to enjoy a salty, crunchy snack.
Photo: Jenny Sugar
Paleo Seaweed Chips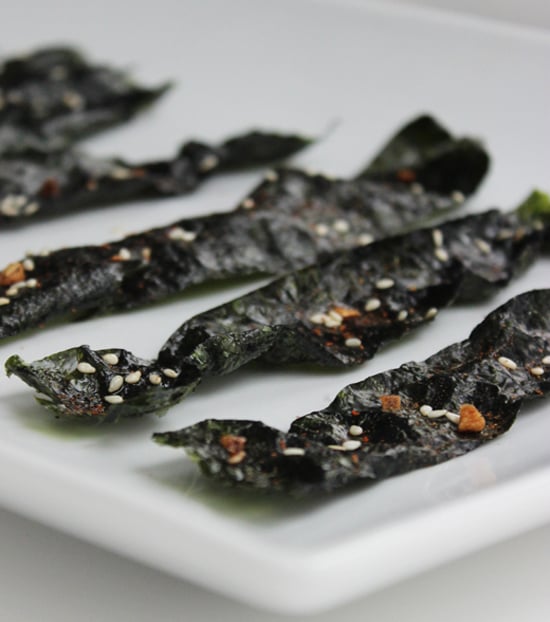 Nosh on these crisp sesame-garlic nori chips [15] for a nutrient-rich snack that you don't have to be on the Paleo diet to appreciate. The salty crunch of this seaweed snack will have you addicted in no time.
Photo: Lizzie Fuhr
Carrot Chips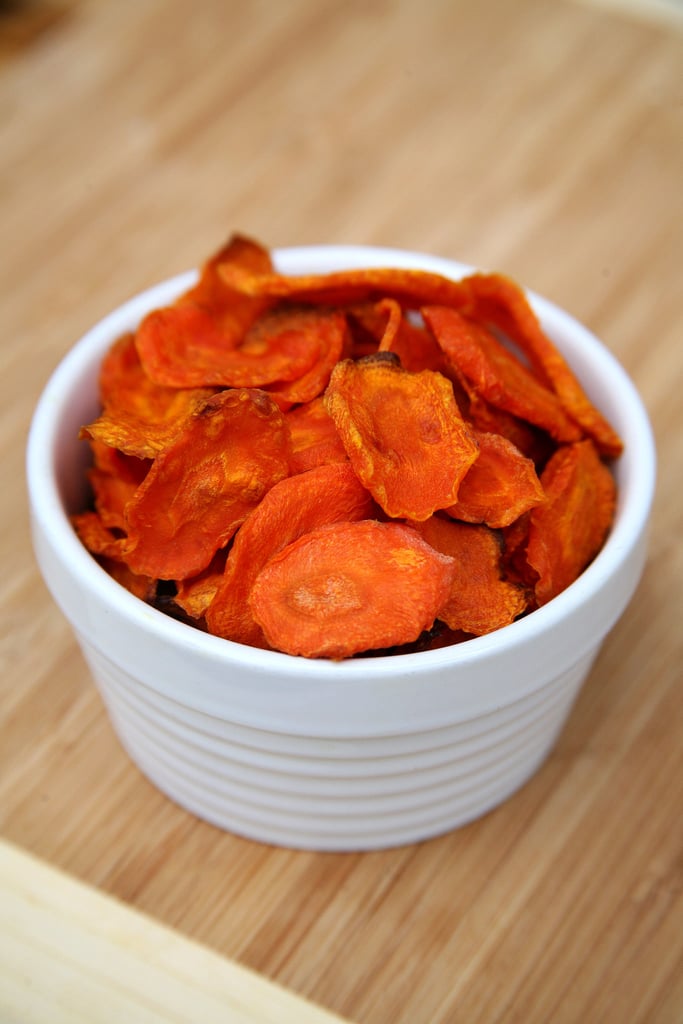 Curb your craving for greasy potato chips by snacking on these diet-friendly carrot chips [16] instead. The slightly sweet snack offers the same crunch as traditional chips, with half the calories.
Photo: Jenny Sugar
Roasted Brussels Sprout Chips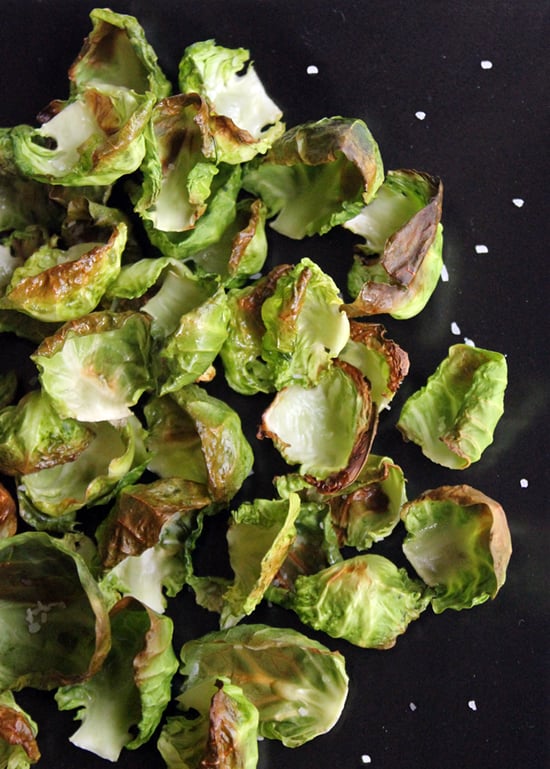 For a tasty snack that makes the most of last night's leftovers, whip up a batch of these low-calorie vegan brussels sprout chips [17].
Photo: Lizzie Fuhr