Healthy Cinco de Mayo Recipe: Addictive Sweet Potato Burritos
Happy Cinco de Mayo! For many of us, the holiday provides a reason to enjoy delicious Mexican food. I'm a sucker for the spicy cuisine, but it's not always the healthiest fare. Ramp up the nutritional content of your dinner by complementing your chips and salsa with a healthier main dish. These filling sweet potato burritos offer a traditional flavor kick with the added benefit of vitamin-rich ingredients. This recipe is flexible to suit your personal taste preferences. I substituted black beans for the kidney beans in the original recipe, opted for whole wheat tortillas instead of flour ones, used yams instead of sweet potatoes, and went light on the shredded cheese. My burritos were dressed in salsa and avocado with a side of light sour cream, but the options are endless. Make this a vegan dish by withholding the cheese and sour cream.
To get this healthy Cinco de Mayo recipe, read more.
Addictive Sweet Potato Burritos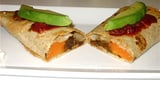 Ingredients
1 tablespoon vegetable oil
1 onion, chopped
4 cloves garlic, minced
6 cups canned kidney beans, drained
2 cups water
3 tablespoons chili powder
2 teaspoons ground cumin
4 teaspoons prepared mustard
1 pinch cayenne pepper, or to taste
3 tablespoons soy sauce
4 cups cooked and mashed sweet potatoes
12 (10 inch) flour tortillas, warmed
8 ounces shredded Cheddar cheese
Directions
Preheat oven to 350 degrees F (175 degrees C).
Heat oil in a medium skillet, and saute onion and garlic until soft. Stir in beans, and mash. Gradually stir in water, and heat until warm. Remove from heat, and stir in the chili powder, cumin, mustard, cayenne pepper and soy sauce.

Divide bean mixture and mashed sweet potatoes evenly between the warm flour tortillas. Top with cheese. Fold up tortillas burrito style, and place on a baking sheet.

Bake for 12 minutes in the preheated oven, and serve.
Makes 12 burritos. May be made ahead of time, individually frozen, and heated.
Information
Category

Main Dishes

Cuisine

Mexican