Healthy Cooking Tips
The Essential Habits of a Healthy Home Cook
Unless you know what you're doing, cooking at home can be as detrimental to your health as eating out. As far as your body is concerned, cooking with processed ingredients high in saturated fat, sugar, and sodium might as well be like eating McDonald's. But becoming a healthy cook isn't as hard as you think. Here are some essential habits for healthy home cooks, starting from the moment you set foot in the grocery store to the second you put dinner on the table.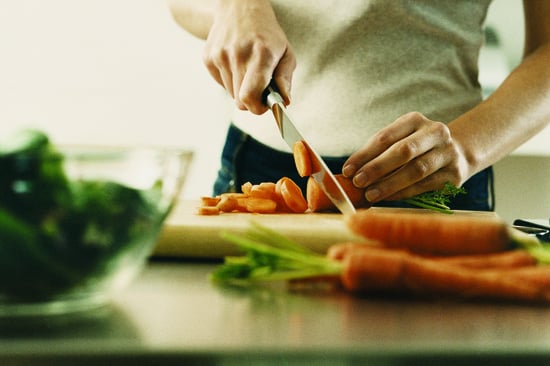 Shop the Right Way
Healthy cooking starts with strategic grocery shopping. Create a meal plan for the week and stock your cart with whole, fresh, and organic foods, lean proteins, and unrefined grains: an easy way to do this is to shop the perimeter of the grocery store. When you do have to buy prepared foods, choose products with the fewest and simplest ingredients. Healthy grocery options can be expensive, but here are six ways to save money when shopping organic.
Fill Your Toolbox
If cooking from scratch seems daunting, arm yourself with a few healthy kitchen gadgets. From steamers to kitchen scales, these tools will help cut back on prep and cook time, reduce the amount of fat in your dishes, and even make calorie counting and portion control easier. Here are a few of our favorite healthy cooking gadgets.
Learn how to cook healthy at home after the break!
Think Like a Prep Chef
Being organized is the key to a successful night of cooking. Even on nights when you feel like you don't have time, careful prepping ensures you'll always have a healthy home-cooked meal. Besides making a meal plan for the week, prep vegetables and fruit ahead of time: once or twice a week, take time to wash, cut, peel, and store the produce you'll need for upcoming meals. Stock your pantry with essential healthy staples and organize your kitchen in a way that encourages healthy eating. Follow these tips on giving your pantry a healthy makeover. Do the above and you're less likely to order a pizza in a desperate moment of hunger.
Maximize Nutrients
Now that you have a kitchen full of healthy ingredients, make sure you maximize their nutritional content with proper cooking techniques: resist the urge to peel produce since a lot of essential nutrients are found in the skin, steam veggies whenever possible, and avoid overcooking — the fresher the produce, the more nutritious!
Cut Back on the Bad Stuff
It's tempting to add flavor to your food by adding copious amounts of fats, sugar, and salt, but these are not the makings of a healthy heart. Follow these tips for reducing the amount of oil and butter when cooking, and instead of relying on sugar or salt to flavor your food, get to know the world of spices. Get creative by making your own spice mixes. Here are more healthy ways to maximize the flavor in your food and cut back your levels of sodium and sugar.