Healthy Cranberry Muffin Recipe
Guilt-Free Cranberry Almond Minimuffins
Holiday season means pastries galore, which can quickly creep up in the form of muffin tops. Here's a healthy cranberry muffin recipe, made partially with whole wheat, to celebrate the holiday while satiating your sweet tooth. Making them smaller cuts down on calories and fat – plus muffins are way cuter in mini form.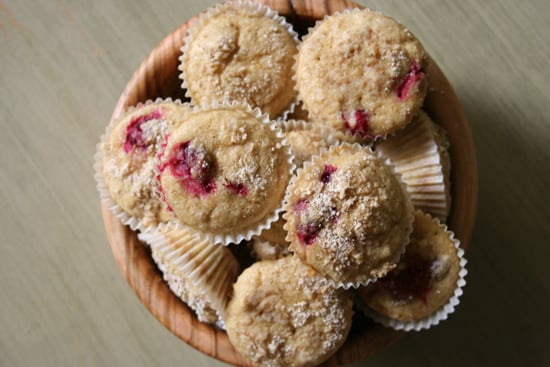 Cranberry Almond Muffins
Original recipe by Anna Monette Roberts
Ingredients
2/3 cup almond milk
1/2 teaspoon apple cider vinegar or distilled white vinegar
3 tablespoons butter, softened to room temperature
1/4 cup plus 1 tablespoon granulated sugar
1/4 cup organic whole cane sugar, like Rapunzel
1 egg
1/2 teaspoon vanilla
1/2 cup plus 1 tablespoon unbleached, all-purpose flour
1/2 cup whole wheat flour
1 teaspoon baking powder
1/4 teaspoon salt
2 tablespoons ground flax seed
Zest from 1 lemon
1/2 cup fresh or frozen cranberries
1/2 cup almond slivers, toasted and cooled
Directions
Heat oven to 375 degrees F. Place cupcake liners in muffin tin.
In a measuring cup, whisk apple cider vinegar in almond milk and let sit for 5 minutes.
To make crumble topping: Using a fork, smash 1 tablespoon flour, 1 tablespoon granulated sugar, and 1 tablespoon butter together in small bowl until mixture resembles sand. Set aside.
To make muffin: In a large metal bowl, beat remaining butter and sugar together. Beat in egg, vanilla, and almond milk mixture. Sift flours, baking soda, salt, and flax into the bowl. Mix until combined. Stir in lemon zest, cranberries, and almond slivers.
Fill muffin tins 3/4 full. Sprinkle crumble mixture on top. Bake for 18-22 minutes or until toothpick comes out clean. Cool for 5 minutes then transfer to wire cooking rack.
Makes 24 minimuffins (about two inches in diameter).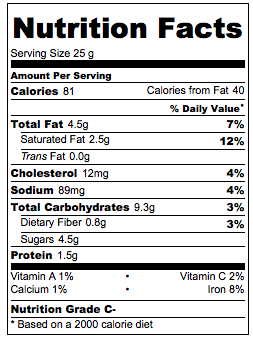 Nutritional Source: Calorie Count
Information
Category

Breads, Breakfast/Brunch

Cuisine

North American