Healthy Dinner Idea: Mexican Stuffed Peppers
I'm a huge fan of Mexican food and I love stuffed peppers, so I decided to make up a meal that combines the two. This recipe calls for layers of spicy beans and rice, so it's full of fiber, protein, and zesty flavor. Want to know how I make them? Then
Mexican Stuffed Peppers:
Mexican Stuffed Peppers
Original recipe, Makes 4 stuffed peppers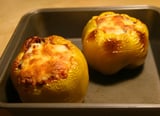 Ingredients
4 peppers
5 tomatoes or 1 can of diced tomatoes
1 can black beans, rinsed
1 carrot, diced
1/2 onion, chopped
2 cloves garlic, minced
1/2 cup dry rice
1/4 tsp cayenne pepper (or more if you like it really spicy)
Salt and pepper to taste
Shredded Monterey jack cheese
Directions
Preheat oven to 350° F.
In one pot, pour in the 1/2 cup of rice and one cup of water. If you like your rice to be a little sticky rather than dry, add another 1/4 cup water. Cover it and place it on high heat until it starts to boil. Then lower to simmer and cook for 20 minutes (or whatever the package says).

In another pot, pour in the diced tomatoes, onions, beans, carrots, and garlic. Heat it on medium heat.

After the tomatoes and bean mixture has been cooking for ten minutes or so, turn off the heat. Add the cayenne pepper, salt, and pepper to your liking. The carrots should still be tender and it should look like this.

Check on the rice. It should look like this.

Now wash the peppers and with a knife, cut a circle around the stem. Remove the stem and all the seeds. Now begin layering inside your peppers. Start with the tomato and bean mixture. Put 2 tbsp in the bottom of each pepper. Then add 2 tbsp of the rice. Layer until the pepper is full. Top with shredded Monterey jack cheese.

Place them in the oven for 45 to 60 minutes. Serve hot and enjoy.
Information
Category

Main Dishes, Beans

Cuisine

Mexican