Healthy Eating Tips From The Biggest Loser's Alison Sweeney in Shape Magazine March 2010
Alison Sweeney's Tips For Staying Healthy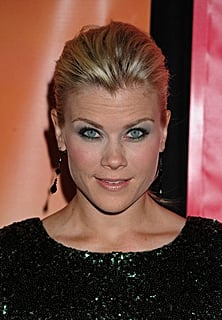 Actress Alison Sweeney is one busy lady. Between her multiple TV gigs and having two little ones on her hands, life can be pretty hectic. In the latest issue of Shape, the Days of Our Lives star and host of The Biggest Loser says that she manages the craziness by "taking it one day at a time." Along the way, Alison has picked up a few tricks for staying healthy even when life is always on the go.
Keep veggies within reach. Alison makes sure she always has healthy food within an arm's reach. "If you clean them, cut them up, and put them in a bowl, they'll get eaten."
Opt for complex carbs. Alison reaches for complex carbs like whole grains because they keep the body satisfied. "They hold you over far longer than refined carbs, like bagels. That's why I start the day with a bowl of oatmeal."
To see more of Alison's tips, read more.
Know your weaknesses. If it's out of sight, it's out of mind! "I lose sight of my diet when I'm around savory snacks, like tortilla chips, so I don't keep them in the house."
Splurge on the real thing. "I'd rather have one small bite of something I'm craving than a fat- and sugar-free version of it. My best friend gave me an ice cream maker, so I can whip up a thick, creamy dessert and be satisfied with just a spoonful or two."
Read labels. "While working on The Biggest Loser, I learned how misleading packaging info can be, especially when it comes to serving sizes. One 'personal pizza' we found actually serves eight!"
Check out the rest of Alison's tips in the latest issue of Shape, which is currently out on newsstands.