Healthy Fettuccine Alfredo Recipe
Guilt-Free Comfort: Low-Cal Fettuccine Alfredo
Fettuccine alfredo is notorious for being one of the heaviest Italian pastas. This healthier recipe dramatically lightens the load by making wise (low-fat) dairy choices that don't affect the flavor or texture and skipping the butter altogether. At less than 350 calories per serving, this creamy and comforting dish is a perfect dinner for a special Winter night at home.
Ingredients
2 cups low-fat milk
8 large cloves garlic, peeled
1/2 teaspoon salt
Freshly ground pepper, to taste
Pinch of ground nutmeg
1 pound fettuccine, whole wheat or egg
2 tablespoons reduced-fat cream cheese (Neufchatel)
3/4 cup freshly grated parmesan cheese, divided
3 tablespoons chopped fresh parsley
Directions
Put a large pot of water on to boil.
Combine milk and garlic in a heavy medium saucepan; bring to a simmer over low heat. Simmer gently until the garlic is tender and the milk has reduced to 1-1/2 cups, 15 to 25 minutes. Let cool slightly.
Puree milk and garlic in a blender until smooth. (Use caution when blending hot liquids.) Return to the pan and season with salt, pepper, and nutmeg. Keep the sauce warm.
Meanwhile, cook fettuccine until just tender, 8 to 10 minutes or according to package directions. Drain and transfer to a warmed large bowl.
Whisk cream cheese and 1/2 cup parmesan into the sauce. Add to the fettuccine, and toss well. Sprinkle with parsley.
Serve immediately, passing the remaining 1/4 cup parmesan separately.
Serves 4.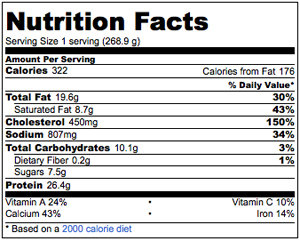 Information
Category

Pasta, Main Dishes

Cuisine

Italian