Healthy Frozen Dinners
Healthy Frozen Dinners Exist! 5 That Fit the Bill
Ideally, you'd have ample time to create a fresh, healthy supper every night, but sometimes life doesn't work out that way. A tried-and-true tip to stay away from fast food on a busy evening? Keep a bunch of frozen dinners tucked away in your freezer for nights when you need them. Now more than ever, there are light and healthy options on the market made with quality ingredients. Here are five I've tasted and enjoyed.
Lyfe Kitchen Orange Mango Chicken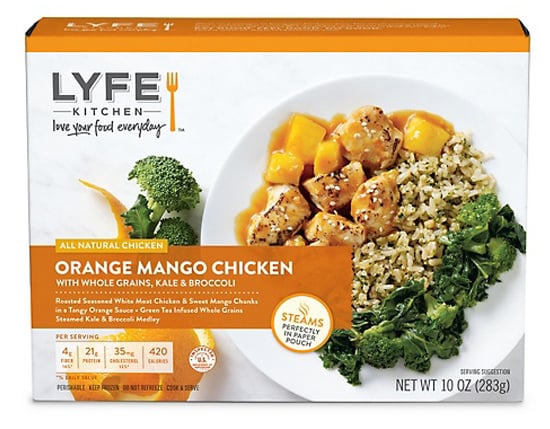 Lyfe Kitchen caused a healthy stir in the California restaurant scene, and Lyfe Kitchen Frozen Foods have done the same in supermarkets across the country. Instead of forcing you to nuke your food in plastic, these meals come in their own parchment pouch, ready to steam in the microwave or oven. My favorite is the orange mango chicken ($6-$8 per meal) entrée that comes with green-tea-infused whole grains and steamed kale and broccoli on the side. At 420 calories, this nut-free frozen meal offers 21 grams of protein and 90 percent of your daily recommended vitamin A.
Amy's Kitchen Black Bean Enchiladas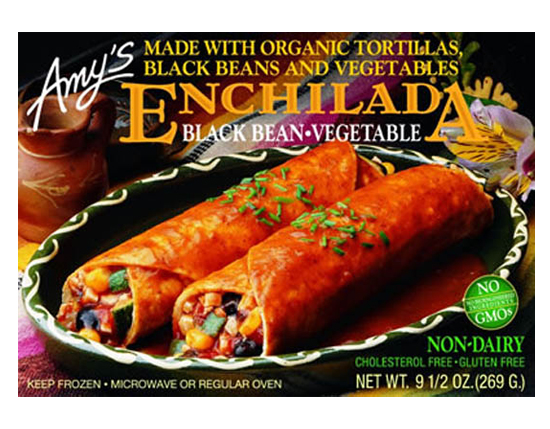 A low-sodium frozen option for vegans and gluten-free eaters? It's true. Amy's Black Bean Enchiladas ($5 per meal) comes with two corn tortillas filled with organic corn, black beans, tofu, and vegetables all smothered in a traditional sauce. This satisfying supper is low in calories, sugar, and sodium and contains 90 percent organic ingredients — difficult to find in a frozen food option!
Healthy Choice Ravioli Florentine Marinara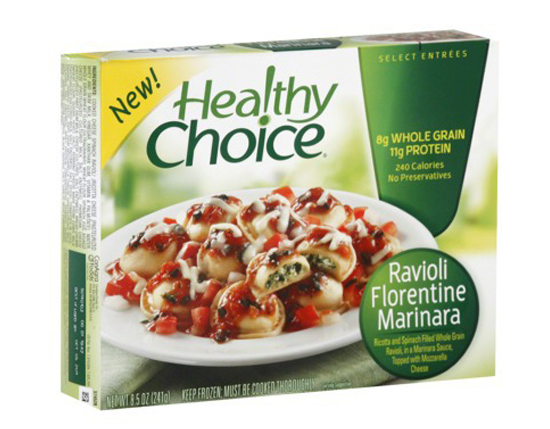 When you're craving a bowl of hearty pasta, dig into ricotta- and spinach-filled Healthy Choice Ravioli Florentine Marinara ($3-$4 per meal) topped with light mozzarella. This iron-rich frozen food dinner is less than 250 calories per container and high in protein, fiber, potassium, and manganese.
Keep reading for more healthy frozen dinners.
Tandoor Chef Channa Masala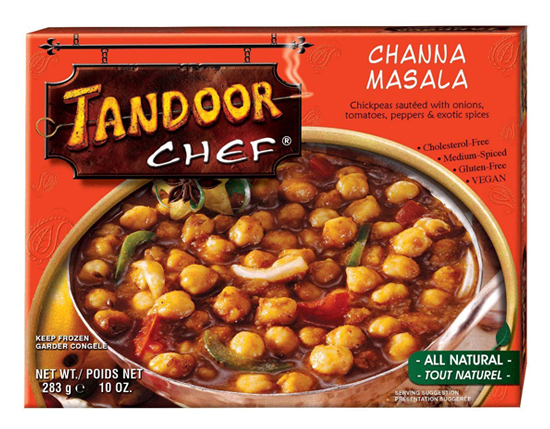 While Indian food is full of spice and flavor, many dishes (especially frozen) leave much to be desired in the nutrition department. This Tandoor Chef Channa Masala ($5 per meal), a traditional dish of chickpeas sautéed with onions, tomatoes, and peppers, is one of the healthiest vegetarian options on the market. High in fiber and iron, Tandoor Chef's Channa Masala dinner is under 400 calories with seven grams of protein.
Lean Cuisine Lemongrass Salmon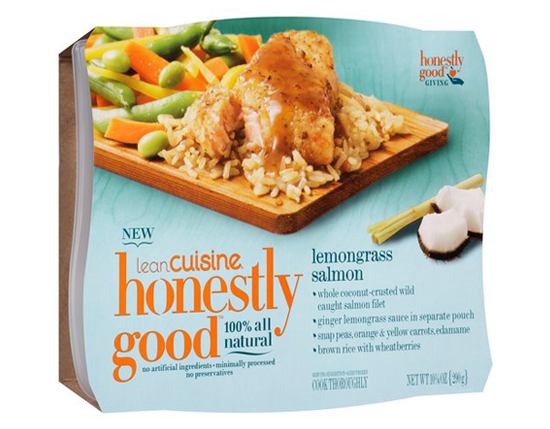 For nights when you're in need of a quick, heart-healthy, omega-3-filled dinner, heat up this Lean Cuisine Lemongrass Salmon ($4-$5 per meal). This 320-calorie coconut-crusted wild-caught salmon filet is served a hearty grain mix of brown rice and wheat berries. Snap peas, carrots, and edamame come on top, and the ginger lemongrass sauce arrives in a separate pouch.