Healthy Frozen Yogurt Toppings
4 Healthy Frozen Yogurt Combos to Try This Summer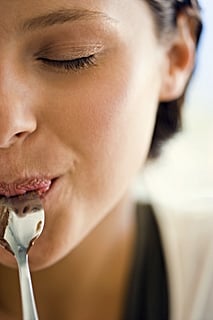 Back in the good ol' days, friendly frozen yogurt servers would stingily add toppings to your yogurt for you. But now, self-serve frozen yogurt venues have become ever popularized. It's so easy to go overboard with the toppings, especially with the variety of candies and cookies that are accessible. That which once was a 150 calorie snack can easily become a huge indulgence loaded with calories and fat. Good news! Here are a few delectable yet controlled combos under 200 calories that you can try next time you're craving a sweet snack.
Blueberry Crumble (180 calories)
1/2 cup tart nonfat frozen yogurt
1/4 cup blueberries
2 Tbsp. of granola
Blueberries are loaded with fiber, vitamin C, and antioxidants; and granola contains complex carbs that will make you feel full and satisfied.
For more topping combinations, keep reading
Tropical Parfait (190 calories)
1/2 cup tart nonfat frozen yogurt
2 Tbsp. mango
2 Tbsp. pineapple
8 pieces mochi
If you're craving gummy bears or something chewy, opt for mochi, a gummy rice cake that is often made without added sugar. Mango and pineapple are high in vitamin A, B6, and C.
Dark Chocolate-Covered Raspberry (156 calories)
1/2 cup tart nonfat frozen yogurt
1/3 cup raspberries
1 Tbsp. dark chocolate chips
Dark chocolate helps lower blood pressure, contains naturally occurring antioxidants similar to blueberries, and releases phenylethylamine, the "love" endorphin. Raspberries contain manganese and magnesium, vital minerals for the body.
Toasted Treat (199 Calories)
1/2 cup tart nonfat frozen yogurt
1/3 cup strawberries
1 Tbsp. roasted, slivered almonds
Adding roasted almonds to the mix gives frozen yogurt a toasted flavor (not to mention added protein and iron). Surprisingly, each ingredient in this classic combo will help meet your daily dose of calcium.
Do you have a healthy ingredient combo that you like to use for frozen yogurt? Share it in the comments section!
Calorie Count Calculations were found using Calorie Count