Healthy Gazpacho Recipes
3 Healthy Gazpacho Recipes For a Light Lunch
When there's no escape from the midday sun, it's time to cool off with a produce-filled chilled soup. Cold soups offer you vitamin-rich refreshment, and you can make a big batch ahead of time to enjoy during the week. Rev up your blender after a trip to the farmers market with these healthy gazpacho recipes.
Watermelon Gazpacho
Watermelon is chock-full of the antioxidant lycopene and vitamins A, C, and B6 — all of which help protect your body from disease. Do it deliciously with this watermelon gazpacho recipe.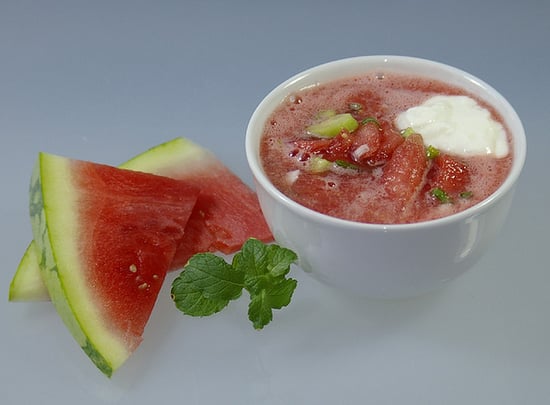 Peach Gazpacho
Cooling, spicy, and flavorful, this peach cucumber gazpacho recipe would be the perfect midday refresher.
See another recipe for a healthful gazpacho after the break!
Vegan Tomato Gazpacho
Want to go the more traditional route? Blogger Healthful Pursuit's vegan tomato gazpacho offers four servings of vegetables in one bowl!
Source: Flickr user abnehmen.net