Healthy Hanukkah Party Tips
Quick Tips to Make a Hanukkah Party Healthier
Hanukkah is a holiday full of family traditions and decadent treats. The holiday commemorates the miracle of a tiny bit of oil that lasted eight nights, but you don't have to enjoy fried foods and pocketfuls of chocolate coins (gelt) each night to celebrate. While a little indulgence works for the long haul, your waistline will not appreciate eight nights of heavy party foods. These tips will keep your Hanukkah party delicious — just with a few healthy twists!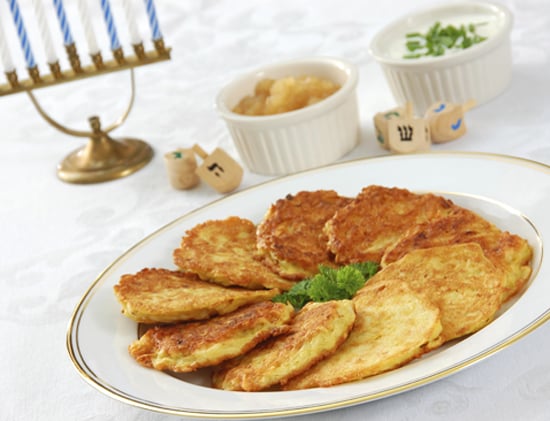 Try a lightened-up recipe: While it's hard to pass up a fried plate of potatoes, there's no need to chow down on a full plate night after night. For a variation on veggie traditions, try out one of these inventive healthy latke recipes that add sweet potato, carrots, and zucchini to the mix. Some of these recipes even forget the fryer and bake the patties up instead.
Choose condiments wisely: If you're going to take your latkes for a dip, then be sure to purchase low-fat sour cream; you won't be able to taste the difference, and you'll be saving a ton of calories. And don't forget about subbing in some low-fat Greek yogurt for that creamy texture you crave. For those who love something a little sweet, be sure to bring some healthy applesauce to the table. That's a latke tradition we can keep!
Go for the gold (not the gelt): A little bit of chocolate gelt will satisfy your nostalgic sweet tooth, but there's no need to overload on sugar. Limit the gelt goodness by buying a limited amount, or consider playing your dreidel with real coins instead of gelt. Consider the few dollars an investment against the dreaded gelt guilt you feel after you're eaten all your winnings.